Inside Out: An Experimental Artistic Process, Nine Artists Exhibit Together After a Six Month Experiment Documenting the Creative Processes That Went Into Each Work
Nine artists present a collection of work illustrating their journey in documenting the conceptual process involved in creating their art. The exhibition will include drawings, writings, sketches and even a few false starts, that ultimately resulted in this show of more than 60 mosaics. The exhibition will be held April 13-June 29, 2012, in the Gallery of Contemporary Mosaics, located at 1800-1806 W. Cuyler Avenue, Chicago, Illinois, 60613.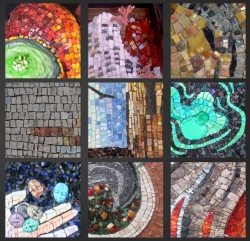 Chicago, IL, April 07, 2012 --(
PR.com
)-- When nine artists trust the process, themselves, and each other, the result is work that is honest and revealing--often to the artists themselves. "Inside Out: The Journey of the Process, Practice and Exploration of Nine Mosaic Artists" chronicles work created during a six month period in a setting never done before in mosaics--all online. Using a virtual classroom setting and video conferencing, the artists received guided assignments, posted works, shared critiques, and built a community. The goal: to create art inspired by something personal and then express that in mosaic. The result: works that reveal the process each artist goes through in looking internally. In addition to the mosaics, the exhibition also includes selections of the sketchbook pages each artist used in journaling, exploring and creating the designs.
Artists in the show are Sue Giannotti, Karen Ami, Carolynn Friedman, Charlene Floreani, Eugenia Brown, Margy Cottingham, Andryea Natkin, Gwyn Kaitis, and Sue Coombs. The artists work in different styles but use common tesserae choices such as marble, natural stone, and smalti to explore their fears, challenges, future, and desires. The exhibit invites viewers to journey along with the artists as they face the blank substrate and look inside themselves, take stock of where they started, acknowledge their fears, and reveal what is in their minds and souls.
About the Chicago Mosaic School: The Chicago Mosaic School is the only not-for-profit art school with a focus on mosaic art in North America. The school, founded in 2005, offers courses and workshops with some of the most renowned mosaic artists in the world, coming from as far away as Italy, France, Great Britain, Australia, and Israel. A 5,200 square foot facility houses a library, classrooms, and lecture space, as well as the Gallery of Contemporary Mosaics, recently moved to the school from its previous location at Navy Pier. For more information including hours, workshops, and class schedules, call 773-975-8966 or visit chicagomosaicschool.com. The school is located in the Ravenswood Arts Corridor, 1 block north of the CTA Irving Park Brown Line.
Contact
The Chicago Mosaic School
Gwyn Kaitis
815-919-2576
chicagomosaicschool.com

Contact