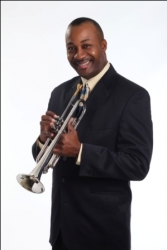 New York, NY, April 24, 2012 --(
PR.com
)-- New Orleans' native son and internationally acclaimed jazz artist Jamil Sharif will launch his ambitious third album, "Diversity," on Tuesday, April 24, 2012 at 5:00 pm in the Big Apple for an intimate industry reception hosted by famed opera singer Gloria Gari, wife of the late, celebrated Romanian opera tenor, Giulio Gari.
Sharif hails from New Orleans jazz royalty, as his family's musical heritage spans more than 150 years. He's the great-grandson of legendary music teacher Professor J. B. Humphrey (known to many as the "Grandfather of Jazz") and the son of world-renowned trumpeter Emery Humphrey Thompson (Umar Sharif) who's performed with jazz icons Lionel Hampton, Quincy Jones, and Dizzy Gillespie, among others.
"Diversity" transcends the confines of the jazz realm and, as the name suggests, reflects the influence of a vast array of musical styles. To embark on a deeply personal musical journey, for this album, Sharif personally composed each selection and assembled a remarkable group of artists to lend their talents, including one of his teachers, Ellis Marsalis, as well as contemporaries Donald Harrison, Herlin Riley, Wes Anderson, David Torkanowsky, and Davell Crawford, just to name a few.
Sharif is a musical journeyman, with his influence transcending the jazz arena right into Hollywood. During the early 90s he appeared in the action adventure Hard Target, starring Jean-Claude Van Damme, and the comedy Undercover Blues, starring Kathleen Turner and Dennis Quaid. His composition "Crescent City Strut" from his 1993 album Portraits of New Orleans was used for the USA Network Series The Big Easy. Throughout the millennium, Sharif continued to soar the film and music wave, serving as music coordinator – and a supporting character – in the 2004 Academy Award-nominated film, "Ray."
"Each song on 'Diversity' represents a different genre of music that has influenced Jamil throughout his long career. Jamil Sharif's album takes you on a mosaic musical journey of yesterday, today and tomorrow. Somehow it all flows together into an extremely pleasurable listening experience," said Taylor Hackford, Producer/Director, "Ray."
"Jazz has many personalities - it warms the heart, intrigues curiosity and ignites all senses. My new album, depicts how jazz collaborates the souls of many as I've always believed the art of embracing Diversity is the ability to capture universal harmony," said Jamil Sharif.
For more information on the CD launch in New York contact Hallema Sharif at 646.535.2805 or via email at hallema @ hallemasworld dot com To find out more on "Diversity" and Jamil Sharif, visit www.jamilsharif.com