Crysobel Jewelry Taps into World's Finest and Most Rare Sapphires from Sri Lanka
The Crysobel Fine Jewelry Collection boasts precious gemstones, including some of the world's rarest and best sapphires, from Sri Lanka.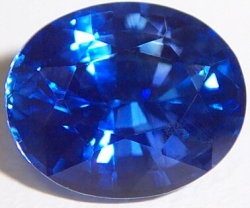 San Francisco, CA, June 01, 2007 --(
PR.com
)-- Consumers looking to purchase jewelry for their significant other or loved ones want to know that what they are getting is the very best grade and quality offered on the market. Just like with diamonds, all sapphires are not created equal. The Crysobel Jewelry Collection (www.crysobel.com) sets a high standard, incorporating into the line, sapphires from the designer's native Sri Lanka, known to produce some of the world's rarest and most exquisite sapphires in the world. In addition to Crysobel only using the finest sapphires on the market today, designer Gaitri Chandra Raj crafts her jewelry with sapphires in a wide array of colors. Unlike most other American Jewelry designers, Chandra Raj is thoroughly familiar with the full spectrum of colors in the sapphire family, making her pieces truly cutting edge.
Gaitri Chandra Raj, designer of The Crysobel Fine Jewelry Collection, has access to orange, white, pink, and blue sapphires. Sapphires are intricately placed in breathtaking settings that are designed with the artistry of old world eastern elegance, combined with fashion forward modern urban aesthetics, reflecting the lifestyle of today's sophisticated woman. They are the ideal blend of the current 'east meets west' trend. "The world's best sapphires come from Sri Lanka, Burma and India and are typically synonymous with blue, the most valuable being clear, deep blue in color," states Chandra Raj.
According to Cally Hall, a fellow of the Gemmological Association and Gem Testing Laboratory in Great Britain and a curator at London's Natural History Museum, "The different colors found within members of the corundum group (e.g. blue, orange, pink) are due to small amounts of metal oxide impurities. Corundum without impurities, and therefore without any color, is rare and is classified as a colorless or white sapphire. Truly colorless or 'white' sapphires are found in Sri Lanka. Pure pink sapphires are colored by very small quantities of chromium, and depending on quantity, they form a continuous pink hue. Pink sapphires ranging from pale shades to an almost red color, occur in Sri Lanka, Burma and in East Africa. The "padparadscha" is a very rare, pinkish orange sapphire, second only to a diamond in its hardness. These stones occur almost exclusively in Sri Lanka."
The exclusive Crysobel Jewelry Collection features these hard to find sapphires in blue, pink, orange and white. Stones are set in 18K gold, with brilliantly designed settings.
For more information regarding Crysobel Jewelry that features these extremely precious gemstones, visit www.crysobel.com.
About Crysobel
Crysobel is a fine jewelry collection inspired by the artistry of the designer's eastern roots, blended with the sophisticated elegance of her current western urban lifestyle. Earrings are crafted in 18K white and yellow gold, highlighting precious and semi-precious gemstones from her native, Sri Lanka. Crysobel earrings display such rare gems as black diamonds, red coral, cultured pearls, hessonite garnets, citrines, rubies and the world's finest Sri Lankan orange, white, pink and blue sapphires. For more information visit www.crysobel.com.
For line sheets, interviews and additional press information contact:
Allison Dawn PR
Allison Kugel
Tel: 516-942-0264
Email: AllisonDawnPR@aol.com
###
Contact
Crysobel
Allison Kugel
516-942-0264
www.crysobel.com
www.allisondawnpr.com

Contact