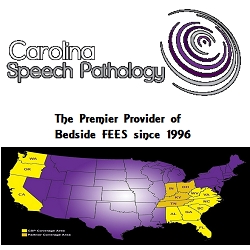 Spokane, WA, May 24, 2012 --(
PR.com
)-- Carolina Speech Pathology announced the expansion of their bedside swallow study service to Washington beginning on June 1, 2012. The announcement was made at the annual Washington Health Care Association conference on May 23rd. Fiberoptic Endoscopic Evaluation of Swallow (commonly referred to as FEES) is a procedure provided dysphagia patients residing in Skilled Nursing Facilities and other long term care settings. This study can frequently be used in lieu of the hospital based Modified Barium Swallow (MBS) study.
Dysphagia is a term used to describe swallowing disorders. The exact prevalence of dysphagia is unknown; there are suggestions that it can be as high as 22% in those over 50 years of age. Approximately 10 million American are evaluated each year with swallowing difficulties. Those difficulties negatively impact quality of life and impaired swallowing can cause significant morbidity and mortality (ASHA.org). More specifically to patients in Skilled Nursing Facilities the prevalence of dysphagia can range from 30-75%. Those patients require addition care and are often on highly restrictive and expensive diets.
"Carolina Speech Pathology is proud of our continuous growth and looks forward to sharing our 16 years of experience with dysphagia to help improve the lives of patients in Washington. Our bedside FEES will provide significant cost savings to care facilities and improve patient outcomes while also creating a better quality of life. By reducing the need for transportation to the hospital for more cumbersome and expensive MBS procedures, our procedure creates a winning scenario that benefits the patient, the facility and the established rehab department," said Randy Aguero, CSP Business Development Director.
Carolina Speech Pathology is based in Apex, North Carolina. The announced expansion to WA adds to their coverage area of VA, NC, SC, GA , FL, AL, WV, CA and OR, and partner coverage in IN, OH, TN and KY. CSP is known for hiring experienced Speech-Language Pathologists and responding to FEES study requests within 3-5 business days.