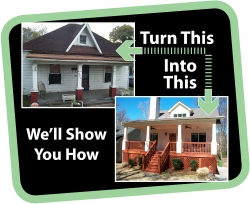 Marietta, GA, May 25, 2012 --(
PR.com
)-- The NEU Homes One-Step Solution brings together all the critical resources to help people buy, finance and renovate a home with the assistance of One dedicated project manager who handles All the details. The NEU Homes approach is a unique solution that brings together an array of professional resources and seamlessly manages the entire process at no additional cost to the home buyer or homeowner.
NEU Homes has a unique business model based on professional relationships. The company does not have contractors on the payroll and there are no incentives sell specific services. The NEU Homes mission is simple, to help clients find the house they can remake into their dream home and provide them with qualified and competent service providers to get the job done efficiently and cost effectively.
A NEU Homes project manager will coordinate the service providers required for your project, including introductions to the following: realtor, general contractor, architect, loan experts, HUD consultant, closing attorney, interior designer, insurance agent, home inspector, landscape design and installation, pool installation, movers, and Individual craftsmen such as: roofers, flooring companies and carpenters.
"Over the years, I have met many prospective home buyers who wanted to purchase in a specific area, but could not afford the house of their dreams and did not want to settle for an older, outdated property. With the NEU Homes solution, our team can help refurbish older homes in geographically desirable locations to create a win-win for home buyers by giving them a great house in an ideal location while also helping revitalize communities," said Chris Norris, President of NEU Homes. "For current homeowners, our team can explore refinancing options to allow people to borrow the rehab money in one simple loan at today's historically low rates. Our talented team is also available to offer a turnkey solution for their entire renovation project."
Upcoming Classes
NEU Homes offers fun and informative classes to help home buyers and homeowners explore options when it comes to remodeling a current or future home. Public classes are held the first Thursday of every month, and future classes are scheduled for June 7, July 5 and August 2. The classes are being hosted at the Harry Norman Realtors office located at 776 Whitlock Ave., Marietta, GA 30064. Online registration is suggested. Onsite registration begins at 5:30 pm, and the classes run from 6:00-7:00 pm and are followed a quick question and answer session. NEU Homes representatives are also available to conduct private classes at lunch and learn events, garden clubs and HOA meetings. For more information and to register for a future class, please visit
www.NeuHomes.biz
.