Couples Resorts and the Issa Trust Foundation Host Amy Roloff Star of TLC's "Little People, Big World" Tours Hospitals in Jamaica
Amy Roloff, who stars in the longest running reality TV show on The Learning Channel (TLC), "Little People, Big World," visited Jamaica this week as the guest of Couples Resorts and its non-profit organization, Issa Trust Foundation. Accompanying her on the trip was Lisa Dixon, Vice President of the Amy Roloff Charity Foundation (ARCF) and Diane Pollard, President of the Issa Trust Foundation.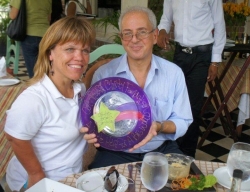 Davie, FL, May 29, 2012 --(
PR.com
)-- During their stay at Couples Sans Souci, the group toured both the Annotto Bay Hospital in St. Mary and the Bustamante Children's Hospital in Kingston.
At a luncheon at Devon House in Kingston, Amy presented Paul Issa, Deputy Chairman of Couples Resorts and Chairman of the Issa Trust Foundation, with a beautiful hand-painted glass plate in appreciation of the support received from Couples Resorts. ARCF will hold its 2012 Starry Night Summers Day Dinner, Auction & Golf Benefit in Portland, Oregon this September with guest host Jason Kennedy from E! to benefit children's charities including the Issa Trust Foundation. Couples Resorts has donated three five-night stays towards the Charity Auction and this is the third year of supporting the event.
ARCF has also supported the Issa Trust Foundation. "This is our second year supporting the Issa Trust Foundation. We believe that the children of Jamaica and the Caribbean are in need of our help," states Roloff. "We love what the Issa Trust Foundation does to enrich the lives of children," she added.
About Couples Resorts:
Couples Resorts, headquartered in Montego Bay, Jamaica, owns and operates four properties in Jamaica – Couples Tower Isle, Couples Sans Souci, Couples Swept Away and Couples Negril. Pioneered by the legendary Abe Issa, "father of Jamaican tourism," each Couples Resort is an unsurpassed model of the all-inclusive resorts concept, boldly designed with local inspiration to create a harmonic sense of nature and authentic Caribbean spirit. For over 33 years, Couples has delighted guests and refined the Caribbean all-inclusive resort experience by providing unparalleled service, exceptional dining experiences and exclusive added value inclusions. For further information please visit http://couples.com/.
About the Issa Trust Foundation:
The Issa Trust Foundation was established in 2005 by Couples Resorts as a registered 501(c)3 nonprofit. The mission of the Foundation is to provide a system of prevention, health promotion and education, community health improvement and other services to promote well-being and development for the people of Jamaica. Board Members are Paul Issa (Chairman), Randy Russell (Executive Vice President), Diane Pollard (President & CEO), Alex Ghisays (PR Director) and Gail Soares (Treasurer). For more information. please visit www.issatrustfoundation.com
About Amy Roloff Charity Foundation:
ARCF Mission Statement: "The Amy Roloff Charity Foundation (ARCF) will advocate, inspire and add value to the lives of youth who face persona life challenges."
ARCF will hold its 2012 Starry Night Summers Day Dinner, Auction and Golf Benefit in Portland Oregon September 15th and 16th with Guest Host Jason Kennedy from E! At the Roloff Farm to benefit Children's Charities including the ISSA Trust Foundation. More information about the event and ARCF can be viewed from their website at www.amyroloffcf.org. Tickets are now available for purchase.
Contact
Issa Trust Foundation
Diane Pollard, President & CEO
515-480-1683
www.issatrustfoundation.com

Contact