DACRON® Memory Fiber Down Alternative Pillows Debut This Summer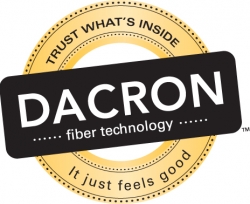 Kennesaw, GA, June 01, 2012 --(
PR.com
)-- Consumers have a new choice for comfortable pillows with DACRON® Memory Fiber down alternative fiberfill, a premium polyester fill with memory technology that adjusts to one's preferred sleeping position while providing night after night of silky softness, without the hefty price tag of natural down. Fieldcrest Luxury Pillows featuring DACRON® Memory Fiber will debut exclusively at Target retail stores and at Target.com in June.
"Down alternatives have been around for years, but this is a pillow with luxurious loft and a comfortable feel that we believe will have great consumer-appeal," said Roberto Fontanillas, global business director for INVISTA's DACRON® Fiberfill business. "Compared to other super-soft down alternative fiberfills, DACRON® Memory Fiber fiberfill offers a full hand and resilience."
Fieldcrest Luxury Pillows made with DACRON® Memory Fiber down alternative fiberfill will have a 300 thread count cotton sateen stripe cover which is exceptionally soft for the ultimate in comfort and style. They are hypoallergenic and machine-washable and will retail at less than half the price of most natural down pillows.
Pillows made with DACRON® Memory Fiber down alternative fiberfill carry the DACRON® fiber quality seal on their package. The DACRON® fiber quality seal is based on a legacy of fiber technologies that have earned people's trust for more than 50 years. In nationwide consumer surveys, two-thirds of consumers recognize the DACRON® brand – one of the highest ratings over other comparable home textile brands.(1) Sixty percent of home textile shoppers surveyed say they would pay more for bedding products featuring the DACRON® fiberfill quality seal.(1)
About INVISTA
INVISTA is one of the world's largest integrated producers of polymers and fibers, primarily for nylon, spandex and polyester applications. With a business presence in over 20 countries, INVISTA's global businesses deliver exceptional value for their customers through technology innovations, market insights and a powerful portfolio of global trademarks including: ADI-PURE®, ANTRON®, AVORA®, C12™, COMFOREL®, COOLMAX®, CORDURA®, CORFREE®, DACRON®, DBE®, DYTEK®, FRESHFX®, LYCRA®, PERFORMA™, POLARGUARD®, POLYSHIELD®, POLYCLEAR®, SOLARMAX®, STAINMASTER®, SUPPLEX®, SUPRIVA™, TACTEL®, TACTESSE®, TERATE®, TERATHANE® and THERMOLITE®. For more information, visit www.INVISTA.com.
(1) 2010 Online blind consumer research with nationally representative panel of U.S. home textiles decision makers. N=1041
Editors Note: "Fieldcrest" and other marks, logos and service names are trademarks of Fieldcrest. DACRON® and all other trademarks and logos herein are property of INVISTA. The use, reproduction, copying or redistribution of DACRON®, Fieldcrest, The Bullseye Design or Target trademarks in connection with any products or services without the prior written permission of INVISTA, Target Corporation (NYSE:TGT), or Fieldcrest is prohibited.
Contact
INVISTA
Misti Moore
770-420-4064
www.invista.com

Contact