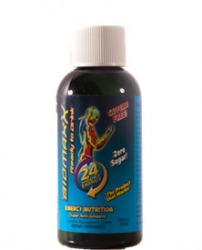 Tempe, AZ, June 05, 2012 --(
PR.com
)-- Preventics Health, LLC today announced the launch of BiomaxX Energy Nutrition, a line of caffeine-free energy drinks and nutritional supplements containing vitamin B12 in its active form of methylcobalamin. These are the first liquid dietary support products offered by the company and represent an important milestone in the execution of the corporate strategy to accelerate the growth of Preventics Health.
Millions of Americans are vitamin B12 deficient and may require supplementation. The leading causes of vitamin B12 deficiency include poor dietary habits, pernicious anemia, a strict vegetarian diet, excessive use of antacids, malabsorption of vitamin B12 resulting from conditions such as HIV infection, AIDS, Crohn's disease, multiple sclerosis and gastrectomy, among others. Vitamin B12 is also lost when alcohol is consumed. Vitamin B12 is needed to convert carbohydrates into glucose, the primary form of energy for the body. Inadequate intake or absorption of vitamin B12 can cause fatigue, and severe deficiencies can cause neurological problems or anemia.
BiomaxX Energy Nutrition offers important benefits to people who need vitamin B12 supplementation. While the prescription vitamin B12 market is quite large, many people are looking for natural alternatives that are both low cost and effective.
BiomaxX Energy Nutrition energy drinks are conveniently available in an 8 ounce concentrate and a 2 ounce ready to drink power shot. Both provide quick energy boosts that last all day long. BiomaxX Energy Nutrition Sublingual Sprays are available in 1 ounce bottles of two formulas: Vitamin B-12 and Vitamin B12 Lipotropic Complex for Weight Loss.
BiomaxX Energy Nutrition is available through Preventics Health website and natural healthcare products retailers.
For more information about BiomaxX Energy Nutrition, please go to
www.preventicshealth.com
.
About the Company
Preventics Health, LLC is a research-driven preventive healthcare company specializing in the development, manufacturing and marketing of proprietary natural therapeutic products including nutritional supplements, weight loss, beauty and pet healthcare lines. Headquartered in Arizona, Preventics Health adheres to the highest quality standards and is committed to delivering the best products made from the purest bioavailable ingredients.