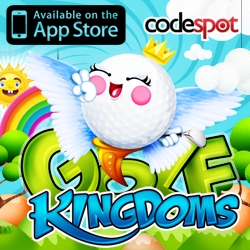 Ho Chi Minh City, Vietnam, June 06, 2012 --(
PR.com
)-- Codespot Software Company is pleased to introduce Golf Kingdoms. This new physics-puzzler golf game golf game is compatible with Apple iPhone, iPod Touch and iPad and available on the Apple Store today.
In a minimum amount of tries, Golf Kingdoms' players must shoot the ball in the hole to achieve the next level. The key of winning is planning the angle and power of each shot to move towards the goal while staying away from bunkers and water hazards.
With 3 maps - Jungle Land, Lava Land and Know Land, Golf Kingdoms challenges players with different requirements and various difficulties. Newbie can find the practices in flat and smooth terrain of Jungle Land beneficial for their skills. Lava Land is on the other hand more challenging with varied types of arrangements and environment. Snow Land gives a more peaceful experience with pleasant snow covered trails especially suitable for players to sharpen their swings.
The game structure and graphic design is enhanced to give players better control of swing direction and power generation through touch screen devices. "Golf Kingdoms is simple and easy to use, yet it's also challenging and addictive. You would want to come back and conquer the past level using less shot than you did the last time," said David Cao, Codespot's director.
Key Features:
* Incredibly easy to play. Check out their game trailer to see how we made it: youtube.com/watch?v=How1OuSohUw
* Insanely addictive - Once you start to play Golf Kingdoms, it's almost impossible to stop
* Easier control with touchscreen, adjust direction and power of each shot in seconds
* Choose optional game-modes: Practice tee and Tournament
* Modify difficulty level: with or without wind (Easy with Wind off and Hard with Wind on)
* Discover 3 golf kingdoms with 27 unique and challenging holes: Jungle Land, Snow Land, Lava Land and more coming soon.
* Game Center Leaderboards - Join the Golf Kingdoms' world and see where you stack up
* Enjoy gorgeous graphics with great animation
* Enjoy relaxing music and sounds
* Regular free updates: lands, animations, spell, items
Pricing and Availability:
Golf Kingdoms 1.0 is only $1.99 USD and available worldwide exclusively through the App Store in Games Categories. Review copies are available upon request.
About Codespot Mobile:
Located in Ho Chi Minh City, Vietnam was founded in 2010 with the vision of creating quality entertainment and educational applications for mobile devices.