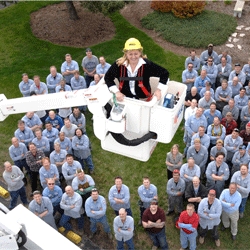 Waukesha, WI, June 09, 2012 --(
PR.com
)-- DUECO, Inc. has been named "Business of the Year" by the Waukesha County Business Alliance and the Milwaukee BizTimes Magazine. DUECO, a third generation privately held business founded in 1955, is the largest privately owned provider of Terex Hi-Ranger bucket trucks and Terex Telelect digger derricks in the country. Earlier, the company had been named a Top 10 finalist and the announcement was made June 6 that the company won the top award, representing excellence in business management, corporate growth, employee and customer relations and a commitment to local communities.
Suzanne Kelley, President of the Waukesha County Business Alliance, commented, "The Top 10 winners embody a number of exceptional qualities, including a keen focus on customer satisfaction, product quality, innovation, and community engagement. One of the features that make these companies stand out is a shared commitment to talent development and ensuring a strong future workforce. All are devoting significant time, talent and treasure not only to developing their current employees, but also to implementing strategies to build a pipeline of skilled workers for the future."
An article in the June 11 Milwaukee BizTimes Magazine noted, "DUECO's success is due in part to their commitment to building long-lasting partnerships with clients. In addition to providing customers with their best products, the company lives by their mission statement: 'Lifting your expectations. Building your trust'." The article went on to note, "DUECO representatives adhere to the 'sunset rule', (calling customers back before day's end) and connecting customers to 'real people', for questions rather than relying on frustrating automated voice systems."
Judie Taylor, President of DUECO, Inc., commented, "Our team, all 350 DUECO and UELC team members… have a burning desire to take care of our customers… to do what is right, to provide solutions, to be innovative and creative with ways that we can continuously improve. We want our team to be the best they can be, so in turn, we can be the best for our customers."
Other Recent Awards
DUECO was also recently recognized with the following awards:
The company earned a We Energies Star award, signifying supplier excellence.
DUECO President, Judie Taylor, was named a 2012 Woman of Influence in the Family Business category by the Milwaukee Business Journal.
Tom Dalum, CEO, was honored at the Waukesha County Technical College commencement ceremonies with the Citizen Service Award for his support of WCTC programs and students.
About DUECO, Inc.
DUECO is the largest provider of Terex bucket trucks, digger derricks, and cranes for the utility market in the nation. DUECO also manufactures hybrid utility trucks and custom utility truck bodies and distributes mini derricks, aerial lifts, stringing equipment and trailers. Family owned and operated since 1955, DUECO's philosophy of teamwork, integrity, and open communication with customers and employees ensures high quality equipment at the best value. With headquarters in Waukesha County, DUECO services customers 24/7 in fifteen states. To learn more about DUECO and what the company can offer, please call us at 800-558-4004 or visit us on the web at dueco.com.