New Dual-Sport Adventure in Northern Ecuador
Ecuador Freedom Bike Rental and Tours Launches Northern Ecuador Discovery Self-Guided Motorcycle Tour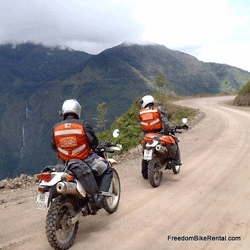 Quito, Ecuador, June 12, 2012 --(
PR.com
)-- Dual sport motorcycle riders who like to get off the beaten track to experience a different rhythm of life and stunning natural places can now reward themselves with a new adventure. Ecuador Freedom Bike Rental has created the
"Northern Ecuador Discovery"
tour, a two-day, self-guided motorcycle trip through some of Ecuador's most beautiful and least-visited national parks and reserves.
"We designed this tour to give dual-sport riders everything they crave," explains Court Rand, creator of the tour. "There are dramatic changes in geography, wildlife, climate, and cultural ways of life that our riders will experience in just two days."
The Northern Ecuador Discovery tour is the first self-guided motorcycle tour of this northern part of the country. The tourism industry is not well developed in this region of indigenous villages, subsistence farmers and coffee growers. This provides a pristine experience for those seeking a true cultural experience. Riders will travel through rainforests, cloudforests, and highlands pampa plus visit crater lakes and volcanic hot springs while experiencing elevation changes from 2,000 feet to 13,000 feet. There will be time to stop and swim in waterfalls, visit indigenous markets, soak in natural hot springs, and photograph this amazing part of the world.
The tour, with long stretches of unpaved roads through some of the most remote areas of Ecuador, is not for everyone and riders should have some offroad experience. It begins and ends in the magnificent capital city of Quito, a UNESCO world heritage site with its beautifully preserved 16th century colonial center. This is a rare opportunity to explore a portion of the world that few motorcyclists have visited.
Contact
Ecuador Freedom Bike Rental
Court Rand
1-603-617-2499
http://FreedomBikeRental.com
In Ecuador +593 (02) 250-4339

Contact