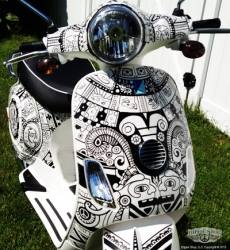 Burlington, VT, June 13, 2012 --(
PR.com
)-- For $10 you have the opportunity to take home your very own piece of music history. Your donation not only enters you into the Vespa Drawing to win a one-of-a-kind Phish inspired scooter, but it also raises funds for environmentally focused and socially conscious charities of the communities that the band stops at along their summer tour.
WaterWheel Vespa Raffle
- Two Brand New 2010 LX 150 Vespa Scooters
- 150 cc Single cylinder, four-stroke catalytic Hi-PER4 Engines
- Max Speed 59 mph, Gas Mileage 75 mpg
- Custom Hand Painted Mayan Phish Artwork
- Custom Embroidered Phish Logo Seat
- Signed by the Band Members of Phish
Enter for your chance to win, while helping out and you could end up making "contact with the road" on your brand new Scooter.
Check out the scooters at the Atlantic City, Jones Beach or Saratoga Phish shows. Visit the HippieShop tent to buy raffle tickets and a Limited Edition Scooter poster. Meet artist Keirsten Read and get some free goodies while your there.
You can also purchase raffle tickets on Phish tour this summer at The WaterWheel table inside each venue or enter at
http://www.HippieShop.com
for a chance to win!