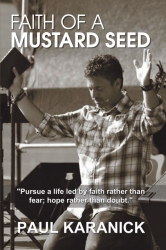 Anaheim, CA, June 13, 2012 --(
PR.com
)-- Paul Karanick, co-founder and evangelist of Xclaimed Ministries, has just announced the release of his first book: Faith of a Mustard Seed. The book covers the beginning years of the ministry and the struggles that he and his family faced from the very start. Karanick says that God used this time to show him and his wife, Christina, how to have a stronger and more effective faith in Christ. Karanick adds, "I felt that I had faith in God, but once I went through the experiences that God placed before me, I realized that I had only a little faith. I wrote this book so that others can see that there are many levels of faith. I truly think we can all have a life led by faith rather than fear; hope rather than doubt."
Paul and Christina experienced what it means to have the faith of a mustard seed. The term is used by Christ to explain the power that one can have if we just have a little faith. Paul looks back on his life and ministry to reveal how God strengthens our faith and forms us into an effective part of the body of Christ.
Recalling the steps of how God led him, his family and ministry, Paul highlights how God equips the ones He calls by:
Calling all people to have faith
Confirming that God is calling
Walking through fear
Building a stronger faith
Infecting others with faith
Paul uses his own life as an example of the faith process. These illustrations will prepare believers for the typical steps involved in building a stronger faith relationship with Christ. Paul openly admits that he was not qualified to take on the task that God had placed upon him, but God would soon reveal to him that no one is truly qualified without the power of Christ. God reshaped Paul and led him into a ministry that continuously depended upon faith.
A true visionary and gifted in faith, he began to trust less in his own abilities and more upon God's abilities. Knowing that without faith it is impossible to please God, Paul teaches of using faith to get as close to God as you can. Paul's unshakeable faith became contagious within his ministry as life's worries and fears were lessened due to the faith that God provides.
Faith of a Mustard Seed is currently available on the Xclaimed Ministries website (
www.xclaimed.org
) and also at barnesandnoble.com, amazon.com and books.google.com.
Book Preview:
It was a little after midnight when my thoughts finally woke me up in fear. I have two little girls and a wife that I have to take care of and I can't even pay the utilities for our house. "God, how did I get here? I put all my faith in You and now, I am awake in the middle of the night because of fear that my family is going to be out on the streets because I tried this crazy idea." I cried, and tossed and turned for about an hour because I could not sleep. I continued to pray and express my disappointment to God. What I did not realize was that God was allowing me to experience a complete dependency upon Him. He was teaching me to pray more often, read and depend upon His Word. There are different levels of faith and He was moving me up to another level. God was training me to read with the intent of getting an answer. He was establishing a foundation for a fruitful relationship. As anyone could see I had faith, but it was very little faith. I often think God would use the words He spoke to the disciples, "You of little faith" to describe me. He was equipping me to have greater faith. I often think back to this particular time in my life and realize that if God had just let the apartment building sell easily and all the funds had been provided by the proceeds, I would have missed this great opportunity of getting to know a true and living God and how much He truly cares for each of us more than we can imagine. After hours of tossing around and a face full of tears God finally put a strong conviction on my heart to go get my Bible. Well, it was downstairs and I really did not want to get up out of bed and go get the Bible. After realizing that I wasn't going to be able to get back to sleep, I went down and got the Bible. As God has been showing me to do, I just opened it up and started reading. "And He said to His disciples, 'For this reason I say to you, do not worry about your life, as to what you will eat; nor for your body, as to what you will put on. For life is more than food, and the body more than clothing. Consider the ravens, for they neither sow nor reap; they have no storeroom nor barn, and yet God feeds them; how much more valuable you are than the birds! And which of you by worrying can add a single hour to his life's span? If then you cannot do even a very little thing, why do you worry about other matters? Consider the lilies, how they grow: they neither toil nor spin; but I tell you, not even Solomon in all his glory clothed himself like one of these. But if God so clothes the grass in the field, which is alive today and tomorrow is thrown into the furnace, how much more will He clothe you?'" (Luke 12:22-28, NASB) It was astounding to hear God speak through His Word, especially knowing that it was exactly what I needed to hear from Him. God was talking to me so clearly, as if He was in the room with me (I know He was). After reading these verses I was overwhelmed with joy. He could not have been clearer in addressing the issues at hand. It reassured me that God was really with me in this mess. Amazingly enough, shortly after reading this scripture, I was able to go to sleep in peace. No more tears or sadness. The financial issues were still present, but now I knew that God was with me and that was enough assurance for me to be comfortable. I don't mind going through hard times, I only need to be assured that God is going with me through it all.