Specialty Products Division at Hormel Foods Introduces FUXIONS™ Water Soluble, Clear & Shelf Stable Omega-3 EPA & DHA Concentrates – Fusing Food & Beverages with Function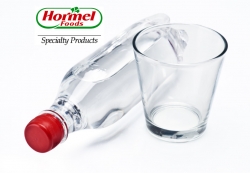 Austin, MN, June 18, 2012 --(
PR.com
)-- The Specialty Products Division at Hormel Foods Corporation (NYSE-HRL), announced today that it has released its new FUXIONS line of products utilizing the patented OmegaH2O® technology to deliver clear, shelf stable and great tasting water beverages. As a continuing effort to focus on consumer health and wellness, the Specialty Products Division at Hormel Foods has partnered with VIRUN® to create patent and patents-pending products that are intended to augment health claims into the new millennium.
Clear Beverage Challenges
Beverage Stability
Shelf stable water applications have proved difficult for several reasons. The biggest challenge has been oxidation of DHA or EPA DHA Omega-3's. As Omega-3 oxidizes, the byproduct creates negative organoletpics (flavor) that can only be described as rancid fish. The oxidation has prohibited shelf stable applications, especially in clear-type PET (plastic) or glass bottled-water beverages. To off-set oxidation or improve flavor, refrigeration is used; and in some cases heavy flavor added to try and help mask the unfavorable characteristic. The line of products from the Specialty Products Division at Hormel Foods are completely shelf stable and do not present any bad flavor or fish taste. In addition to flavor; emulsion stability and turbidity (clarity) in the beverage has been a problem. Producing Omega-3's into clear water can be challenging. In order to achieve water-like appearance, detergents have been used that help reduce particle size to deliver lower turbidity. The problem with these types of detergents is that they have been shown to absorb into the body along with the Omega-3. This is commonly referred to as bioavailability. FUXIONS allows the Omega-3 to be absorbed without the excipient being significantly absorbed into the body which ultimately delivers a safe, non-toxic and more natural means of Omega-3 delivery.
Cost
Fortifying beverages have proven costly due to high level of emulsifiers and surfactants (things to help make oil soluble). Adding emulsifiers to the oil and then directly adding to the application has shown to prohibit the development of certain food/beverage applications. FUXIONS™ has certain proprietary processes and compositions that create concentrates that are similar to a flavor additive. By producing a concentrate, FUXIONS™ allow less emulsifier resulting in less cost and consequently better stability.
Leveraging the Food-beverage and Supplement Interface
FUXIONS™ has taken the functional foods revolution to the next level by incorporating ingredients that combine supportive health claims with the integrity associated with the Hormel Foods brand. Health claims have become an important, in some instances, necessary step when considering a new food/beverage product. The new FUXIONS™ line of concentrates give the finished product brands more options Clear-waters, fortified 100% juices and other functional shelf-stable beverages that include omega-3 EPA and DHA have now become possible. This uncharted territory is not exclusive toward omega-3 EPA and DHA, FUXIONS™ also allows ingredients such as Resveratrol, CoQ10, Lutein, Lycopene, Beta Carotene and even lignans such as Sesamin to be water soluble and shelf stable.
Marketability in a Competitive Industry
The buck doesn't stop here. Although FUXIONS™ allows a competitive edge and new concepts to functional foods and beverages, other attributes are important factors to gain an edge over other products on the market. FUXIONS™ have incorporated unique and modern flavor concepts to the applications we are currently developing. Some products fortified with an excellent source Omega-3 claims include, Cucumber-Water, Green-Tea Waters or Chocolate Berry Water. These unique, eclectic flavor options combined with novel functional ingredients allow FUXIONS™ to take your applications into the new millennium.
Nicole Shute, Marketing Manager for Hormel Foods Specialty Products stated, "FUXIONS™ allows difficult-to-formulate functional ingredients, such as Omega-3 EPA and DHA, to be incorporated into waters, shelf stable soups, sauces and non-fat products like milk without stability issues."
Philip Bromley, CEO for VIRUN stated, "Hormel Foods has upped-the-ante with their FUXIONS™ line of concentrates. Offering omega-3 EPA and DHA fortification and finished product development gives a one-stop-shop advantage."
Clear and refreshing green tea or cucumber flavored water containing an excellent source omega-3. Come try the future of functional applications at the Specialty Products Division at Hormel Foods booth #521 during the Institute of Food and Technology (IFT) Expo in Las Vegas June 26th, 27th and 28th.
Contact
The Specialty Products Division at Hormel Foods Corporation
Nicole Shute
507-434-6639
www.hormelingredients.com/

Contact