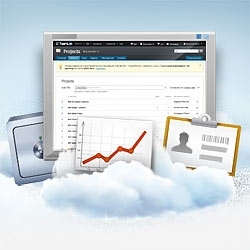 Los Angeles, CA, June 21, 2012 --(
PR.com
)-- TeamLab, a web service for business collaboration, document and customer relationship management, launches the upgraded version of the
Projects module
. With the functionality extended and the design modified, TeamLab offers project managers and business owners to get use of the enhanced feature-set for task control, time tracking and reporting.
At multiple users' request, new flexible task settings allow for setting a priorities level, adding subtasks and suspending a project, if necessary. Moreover, each task can be assigned to several employees which appears to be essential when it comes to co-working.
The access rights management is one more point on the improvements list. To solve the problem of the third party proceedings and increase business data protection, each portal member gets individual permissions set for every module. For example, an employee can get access to Community and Documents, but the use of Projects and CRM will be restricted.
The Ajax technology, introduced in lists, provides a wider choice of filter and sorting options. Portal users will be able to navigate through projects, applying quick filtration by a team member, manager, project or task status.
Adjusting to the new functionality and aiming at more convenient usability, the interface has been optimized. For those accustomed to the habitual design there is an option to switch between the previous and new versions of the Project Management module at the portal settings.
Antony Smirnov, Product Development Head, states: "The PM module is undoubtedly one of the essential parts of the TeamLab suite and all the improvements made were highly demanded by users. At the same time it's impossible to satisfy the needs and tastes of absolutely everyone, that's why starting from this version our customers will always have a choice whether to switch to an upgraded version or keep to the current one."
About TeamLab
TeamLab is a web service for business collaboration, document, project and customer relationship management that integrates a number of online tools helping employees to organize business tasks, exchange news, manage corporate documents and communicate in real time. For more information refer to
http://www.teamlab.com
For further information, please contact:
Olga Sorokina,
PR Manager,
TeamLab
Phone: +3717121714
Email:
Olga.Sorokina@teamlab.com