A2L Consulting Releases The BIG Litigation Interactive E-Book
This free E-Book is written for litigators, in-house counsel and the litigation support staff that assist in preparing a case for trial. The BIG Litigation Interactive E-Book offers practical advice based on real-world experience by A2L Consulting that has helped generate trillions of dollars in favorable litigation victories.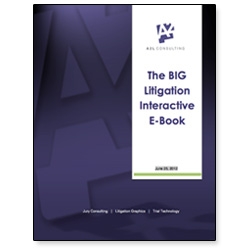 Washington, DC, June 26, 2012 --(
PR.com
)-- A2L Consulting released today the latest in its "e-book series" –
The BIG Litigation Interactive E-Book
. A2L Consulting's e-books are a collection of educational, free and downloadable electronic books containing easily digestible content for updating savvy litigators, in-house counsel and litigation support staff about developments in the litigation industry.
A2L's e-books provide hard-to-find tips about the latest litigation graphics and trial technology techniques, trial tactics, trial consulting developments and courtroom presentation innovations. With litigation at the core of more than 10,000 cases supported in the company's 17-year history, there is a deep well of knowledge and techniques that the A2L team has amassed. The topics covered in this complimentary litigation e-book include:
-- 6 Reasons The Opening Statement is The Most Important Part of a Case
-- 10 Videos to Help Litigators Become Better at Storytelling
-- Trial Presentation Too Slick? Here's Why You Can Stop Worrying
-- In Trial Presentation - A Camel is a Horse Designed by Committee
-- 6 Tips for Effectively Using Video Depositions at Trial
-- Explaining the Value of Litigation Consulting to In-House Counsel
-- How to Pick a Litigation Consulting Firm (Jury, Graphics or Tech)
-- 6 Good Reasons to Conduct a Mock Trial
-- Trending: Mock Trial Testing of Litigation Graphics AND Arguments
-- Top 5 Trial Timeline Tips
-- Printed Trial Boards Making a Comeback? It's Courtroom Deja Vu!
-- Using Scale Models as Demonstrative Evidence - a Winning Trial Tactic
-- 6 Ways to Convey Size and Scale to a Jury
-- Litigation Graphics: The Power of Checklist Trial Exhibits
-- Legal Animation: Learn About the Four Types Used in the Courtroom
-- 7 Smart Ways for Expert Witnesses to Give Better Testimony
-- 5 Tips for Using TrialDirector and Trial Technicians Effectively
-- Trial Graphics, Color Choice and Culture
-- 10 Web Videos Our Jury Consultants Say All Litigators Must See
-- Lists of Analogies, Metaphors and Idioms for Lawyers
-- Teaching Science to a Jury: A Trial Consulting Challenge
-- 3 Styles of Document Call-outs Used at Trial
-- Demonstrative Evidence: Simplifying Technical Cases or Patent Cases
-- Say Goodbye to the David vs. Goliath Courtroom Myth
-- 5 Ways to Research Your Judge's Likes and Dislikes
-- When a Good Trial Team Goes Bad: The Psychology of Team Anxiety
The BIG Litigation Interactive E-Book is a pdf electronic book with hundreds of live hyperlinks throughout the book. This means that if you are viewing the book on a computer or mobile or tablet device, you can easily play movies and follow links.
Ken Lopez, CEO at A2L says about the e-book series: "At A2L, we are constantly pioneering winning litigation techniques, and we work tirelessly to pass on those skills to our contacts, clients and customers." He further commented, "With the amazing success of The Litigation Consulting Report blog, we have proven that litigators and other members of trial teams are eager to study and adopt proven trial methods. With 17 years of litigation experience working with all major law firms on over 10,000 cases, A2L Consulting is in a unique position to share trial tactics."
While many companies want keep their creative techniques secret, A2L believes that a "rising tide will float all boats" and that the open collaboration of smart litigators, trial technologists and litigation consultants is vital for the betterment of the litigation industry. Furthermore, as juries and judges have high expectations that litigators will provide a high-tech presentation with professional visuals to back up their facts; great trial graphics and courtroom presentations are an absolute must.
As the trial presentation and litigation consulting industry continues to expand, you can expect to see even more informative publications that will keep the ideas and dialog going in the legal industry. A2L Consulting plans on releasing its next e-book soon. Ken Lopez expanded on this by saying, "We have more material, experiences, best-practices and trial war stories than we could possibly publish in a lifetime. With that in mind, we will endeavor to publish only the best of the best ideas in the years ahead."
The complimentary e-book, The BIG Litigation Interactive E-Book, may be downloaded here:
http://go.a2lc.com/big-litigation-e-book/
About A2L
A2L Consulting offers litigation consulting services to law firms and corporations worldwide. The firm's services include jury consulting, the consultative design of litigation graphics and deployment of pre-trial technology, courtroom electronics and the trial technicians to support that technology.
A2L was recently recognized by the readers of LegalTimes and the readers of The National Law Journal as a Best Demonstrative Evidence Firm.
A2L headquarters is in Washington, DC and it has personnel or a presence in New York, Miami, Boston, Chicago, Los Angeles, Atlanta and San Francisco. The firm's work routinely takes it to those cities plus Houston, Newark, New Jersey, Wilmington, Delaware, Philadelphia, Richmond, Virginia, Baltimore, Maryland, Dallas, Texas, Phoenix, Arizona and London, England.
A2LC.com | 800.337.7697 x121
Contact
A2L Consulting
Nina Doherty
800-337-7697 x121
www.A2LC.com
Blog: http://www.a2lc.com/blog

Contact