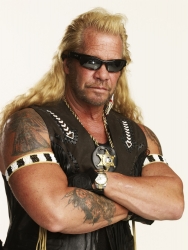 Honolulu, HI, July 06, 2012 --(
PR.com
)-- Duane "Dog" Chapman, the world's most famous bounty hunter, television star, and two-time New York Times best-selling author, is coming to a city near you. Chapman will be in San Diego, Denver, and Winnipeg this month for appearances at special events, and the public is invited to attend.
Here's a summary of the events and ticket information:
July 8 - San Diego
The Professional Bail Agents of the United States (PBUS) presents Dr. Tim Storey and Duane "Dog" Chapman with special performance by Jon Gibson
PBUS is proud to present celebrated author, motivational speaker and life coach Dr. Tim Storey, renowned bounty hunter Duane "Dog" Chapman, and top-selling recording artist Jon Gibson at the opening event of the PBUS Mid-Year Conference in San Diego. The public is welcome to this event.
WHEN: Sunday, July 8, 2012
VIP Reception at 5:00 p.m. (must purchase VIP ticket)
Doors Open at 6:00 p.m. • Event Starts at 7:00 p.m.
WHERE: Manchester Grand Hyatt, 1 Market Place, San Diego, CA 92101
TICKETS & INFO:
http://www.dogthebountyhunter.com/FanClub/Events.aspx
• $100 VIP, includes VIP Reception, VIP Seating, Front of Line VIP Pass for Book Signing/Meet & Greet with Duane Chapman
• $35 General Admission, includes General Seating, Access to Book Signing/Meet & Greet with Duane Chapman
July 14 - Denver
Grand Opening of "Da Kine Dog House" (official "Dog the Bounty Hunter" store) and Free Block Party with Live Entertainment by "The Groove Hogs," featuring Beth Chapman.
Join the Chapman family at the Block Party, head to the Dog store and get your Dog shirts and gear autographed by the Posse members. Plus photo ops and live music by "The Groove Hogs," featuring guest vocalist Beth Chapman. A portion of the sales will be donated to local Denver charities.
WHEN: Saturday, July 14, 2012 • 2-6 p.m.
WHERE: 2547 Sheridan Blvd., Edgewater, CO 80214
TICKETS: Free
INFO: http://www.dogthebountyhunter.com/FanClub/Events.aspx
July 27 - Winnipeg
Appearance by Duane and Beth Chapman to support Teen Challenge Winnipeg
Come meet Dog and Beth Chapman at this exciting event supporting Teen Challenge. Bring your favorite "Dog the Bounty Hunter" item and have it autographed after the show. Come early to get the best seats. Dog will inspire the crowd with his accounts of being a bounty hunter, his experience in the Texas State Penitentiary, and his road to recovery from drug and alcohol abuse.
This event is a proud supporter of Teen Challenge and 20% of the proceeds will be donated to this very important charity that helps Winnipeg citizens every day.
WHEN: Friday, July 27, 2012
11:00 a.m. ~ 4:00 p.m. Trade show, exhibits, entertainment for the whole family.
7:00 p.m. Dog the Bounty Hunter appearance
WHERE: Victoria Inn & Conference Centre, 1808 Wellington Avenue, Winnipeg, MB R3H 0G3
TICKETS: Zerona Canada, Tel. (204) 504-6778 or (204) 728-8200
INFO: http://www.dogthebountyhunter.com/FanClub/Events.aspx
http://www.teenchallenge.mb.ca/
About Duane Chapman
Considered the greatest bounty hunter in the world, Duane "Dog" Chapman has made more than 6,000 captures in his 27-year career. This highly intense, charismatic ex-con and born-again Christian is the king of the comebacks. This modern-day hero once served time in a Texas prison. "I am what rehabilitation stands for," Dog says.
Now on the right side of the law, Dog is tireless in his efforts to bring in the bad guys and encourage them to turn their lives around. Over the years, the list of fugitives Dog claims to have either helped catch or single-handedly brought to justice reads like a who's who of America's most wanted, including high-profile rapist and Max Factor heir, Andrew Luster.
Dog credits much of his success to his knack for getting the most out of his informants. "Seventy percent of all my captures happen because some good ol' American has turned them in by giving me information," he says.
Find out more at www.dogthebountyhunter.com
About Dr. Tim Storey
Dr. Tim Storey is an acclaimed author, speaker and life coach. He is well-known for inspiring and motivating people of all walks of life, from entertainment to executives, celebrities and athletes, to adults and children in the most deprived neighborhoods in the country. Dr. Storey has visited fifty-five countries and has spoken to millions of people. He often meets privately and counsels high-profile leaders in various industries.
Find out more at
www.storeystyle.com
.
About PBUS
Education, Information, and Representation Professional Bail Agents of the United States (PBUS) is the professional association representing the 15,500 bail agents nationwide as the National Voice of the Bail Agent. Since its founding in 1981, PBUS and its alliance with state associations have advanced the profession through legislative advocacy, professional networking, continuing education, support of bail agent certification, enhanced liability insurance and development of a code of ethics.
Beth Chapman currently serves as Senior Vice President for PBUS.
Find out more at
www.pbus.com
.