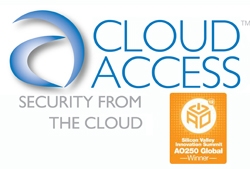 Los Angeles, CA, July 11, 2012 --(
PR.com
)-- Security-as-a-service leader CloudAccess was selected as an Always Global 250 winner by the technology media watchdog AlwaysOn for its unique technology and entrepreneurial approach to the cloud-based security market.
Inclusion in the AlwaysOn Global 250 signifies leadership amongst its peers and game-changing approaches and technologies that are likely to disrupt existing markets and entrenched players in the Global Silicon Valley. CloudAccess was singled out for its contributions to the fast-developing security-as-a-service space, and also for its long term vision in changing the way companies perceive and practice IT asset protection.
"This honor goes beyond the recognition of our scalable, SIEM and identity and access management solutions. It acknowledges the paradigm shift for businesses and validates that enterprise security can safely, efficiently and cost-effectively be managed from the cloud. It is a great honor and I am extraordinarily proud to share this award with the whole CloudAccess team," said CloudAccess CEO Kevin Nikkhoo.
CloudAccess was specially selected by the AlwaysOn editorial team and industry experts spanning the globe based on a set of five criteria: innovation, market potential, commercialization, stakeholder value, and media buzz.
"This year's AlwaysOn Global 250 winners are driving the technology market into new, uncharted territory, representing the highest-growth opportunities we've seen in the private company marketplace in the history of the Global Silicon Valley," says Tony Perkins, founder and editor of AlwaysOn.
The AlwaysOn Global 250 winners were selected from among thousands of domestic and international technology companies nominated by investors, bankers, journalists, and industry insiders. The AlwaysOn editorial team conducted a rigorous three-month selection process to finalize the 2012 list.
CloudAccess and the AlwaysOn Global 250 companies will be honored at AlwaysOn's tenth annual Innovation Summit at the Computer History Museum on July 23th, 2012.
CloudAccess was recognized for its scalable cloud-based security model which provides comprehensive, integrated and cost-effective IT asset protection for such needs as SIEM, Log Management, Single Sign On, WebSSO, Identity Management and Access Management.
"We, as IT professionals, already accept and embrace different cloud-based options. We support dozens of applications in the cloud—some are even of enterprise scale and proprietary in nature. Security-as-a-service is just part of that evolution," Nikkhoo said. "And CloudAccess is proud to be recognized as an innovator in that space."
A full list of all the AlwaysOn Global 250 winners can be found on the AlwaysOn website at: http://www.aonetwork.com/AOStory/Announcing-2012-AlwaysOn-Global-250-Top-Private-Companies
For more information about the CloudAccess or security-as-a-service managed from the cloud, please contact CloudAccess at 877-550-2568 or visit the website www.cloudaccess.com or blog site at http://cloudaccesssecurity.wordpress.com/