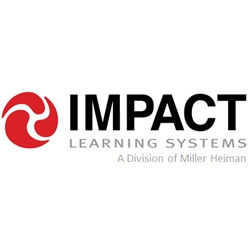 San Luis Obispo, CA, July 19, 2012 --(
PR.com
)--
Impact Learning Systems
of San Luis Obispo, California, announced today that it has been acquired by
Miller Heiman
, the leader in global sales performance.
"This acquisition is an exciting step forward for Impact, and for our customers," said Malcolm Carlaw, President of Impact Learning Systems. "Progressive companies today realize that providing a consistent, world-class customer experience across all channels is what drives customer loyalty and growth. We're the leader in delivering highly-effective training in the customer service and support sectors. Miller Heiman is the global leader in sales performance training. By combining forces with Miller Heiman we're able to bring a complete training solution to our clients. There is great synergy between our companies and we couldn't be more thrilled with the prospect of becoming part of the Miller Heiman solution."
"The acquisition of Impact Learning Systems enhances Miller Heiman's customer offerings and builds on our vision of becoming the key resource for sales leaders," said Sam Reese, Chief Executive Officer of Miller Heiman. "Today's selling environment requires companies to access clients through direct, indirect, and inside sales functions, and to do it by effectively providing a consistent brand experience to the client."
"With the acquisition of Channel Enablers in 2011 and of Impact Learning Systems today, we've added key components to round out our Sales System TM," Reese said. "Regardless of how any company goes to market, there needs to be a consistent customer experience. Miller Heiman provides proven, repeatable methodologies to build high-performance sales engines that accelerate the journey toward sustainable sales performance."
According to Carlaw, "We're all about producing results for our customers. Miller Heiman's expertise in sales allows us to offer a larger solution to our customers. Our clients will be more successful when we improve their sales skills and
customer service skills
."
Impact Learning Systems will operate as a subsidiary and be known as Impact Learning Systems – A Division of Miller Heiman. It will continue to deliver proprietary training programs, consulting, e-learning courses and coaching programs based on its best-practice learning model. Impact Learning Systems International was represented in the transaction by Luntz, Suleiman & Associates, Inc., and Whitestone Communications, Inc.
About Impact Learning Systems: Get to the Heart of Customer Service
Impact Learning Systems is the industry leader in skills-based customer service, telephone sales, and field-service training. Impact's programs teach essential communication skills while building team spirit and a positive work environment. Companies using Impact's programs report measurable increases in sales and customer satisfaction along with reduced time to resolution, call escalations, and operational costs. For more information, visit www.impactlearning.com.
About Miller Heiman: The Sales Performance Company
Miller Heiman's constant innovation and advancements have kept it the global leader in sales performance for more than 30 years. The company delivers timely customer-centric solutions tied to proven, research-based strategies and processes that help firms of all sizes win complex sales. Miller Heiman uses a common framework of easily repeatable methodologies that enable sales organizations to build high-performance, sustainable sales engines and return measurable results. Miller Heiman is a worldwide leader in sales performance with programs in 20 languages and corporate offices in the United States, the United Kingdom and Australia. For more information, visit www.millerheiman.com.