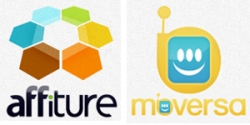 New York, NY, July 24, 2012 --(
PR.com
)-- Digital advertising company
CPX Interactive
today announced a divisional branding initiative with the break out of its mobile division, Moversa (
www.moversa.com
), and the launch of an affiliate network division, Affiture (
www.affiture.com
). Additional divisions devoted to industry hot-topics such as data, publisher yield monetization, RTB enabled exchange marketplaces, hyper-local targeting and dynamic creative remarketing will be announced throughout the remainder of the year.
"We will 'package-out' much of what we have always offered as unique divisional brands. When complete, this will provide a clearer, simplified vision of the many ways that CPX Interactive works toward a more unified and efficient world of digital advertising," said Mike Seiman, CEO and Founder of CPX Interactive.
A first-mover and 10-year veteran in the online display space, CPX Interactive's new organization is result of the changing ad tech industry. The new structural initiative is in preparation for what CPX deems a return to a less fragmented digital landscape – one in which advertisers and publishers rely on fewer digital advertising partners that offer more solutions but with those various solutions more defined and clear.
"It is often difficult to stand our ground and say that our huge scale and vast experience allows us to effectively address nearly any issue related to display advertising. It is easier for many companies to find the one niche and pitch the more dedicated sell," said David Shay, EVP of Marketing, CPX Interactive. "But the truth is that those fragmented companies often cannot scale into a competitive business model and rarely add to the overall efficiency of the space. Our new strategy helps clients understand both the specifics of how we address their needs and how all of these offerings fit into the larger digital advertising company that is CPX Interactive."
About CPX Interactive
CPX Interactive is a digital advertising company consistently serving more than two billion daily ad impressions. Its global distribution engine includes both a private marketplace of more than 4,000 quality publisher sites and an on-demand network with access to virtually every major aggregator of digital media. CPX campaigns are churned through a continuous cycle of planning, execution, optimization, reporting and analysis – each leveraging the company's unparalleled scalability. CPX has proven success with more than 300 major brands worldwide. For more information, visit http://www.cpxinteractive.com.