Introducing Prelude: The First Affordable App for Musicians
Introducing Prelude, an affordable, entry-level app that enables musicians to upload music, photographs, video, news, social media feeds and tour info and get into the App store in a month or less.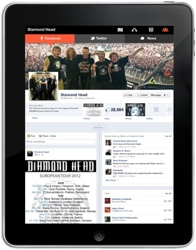 Syracuse, NY, July 25, 2012 --(
PR.com
)-- Successful acts know how to connect with their fan base. In this day and age, that means more than just a web page, e-mail blitzes and a social media presence. It means providing a connection with fans wherever they are--any time, anywhere.
It means having an app.
But custom apps are expensive and time-consuming. Enter the revolutionary new Prelude for iPad. Prelude is inexpensive and lightweight. Best of all, Prelude will get you in the App store and on an iPad in one month or less.
With Prelude for iPad, artists can bring together news, social media feeds and tour info for fans on the go. Taking advantage of the iPad's revolutionary high-resolution Retina screen, uploaded photographs and video look simply stunning. Most important, music released in-app can be priced by the artist. Once purchased, the app remains with the fan who purchases it, and the artist keeps the profit.
Custom apps are priced way beyond the reach of mere mortals. That's why Prelude has been designed as a framework, which means costs are kept down by providing everything an artist needs without end-to-end customizability. With that said, artists will get an app experience that is as unique as their act. For a modest deposit and a low monthly fee, acts can load Prelude with albums, photos, videos, set lists, logo, colors, social media feeds and tour dates--everything needed to keep fans informed and connected.
Prelude for iPad will be available by the end of July, with further versions for different platforms and devices to appear in due course. Artists and labels interested in getting on board are encouraged to contact Bruce Pegg at
bruce@getprelude.com
for more information.
www.cityboyrecords.biz/City_Boy_Records/Prelude_App_files/PreludeApp.pdf
Contact
Prelude
Bruce Pegg
315-857-8275
www.cityboyrecords.biz/City_Boy_Records/Prelude_App.html

Contact