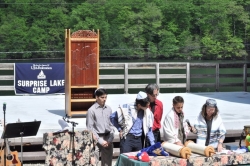 New York, NY, July 27, 2012 --(
PR.com
)-- The best story about Surprise Lake Camp this year may not be that it is celebrating its 110th Anniversary. The best story may be that a record 25 campers and staff will celebrate their bar or bat mitzvahs at the camp over the course of the summer.
For 110 years Surprise Lake Camp has been providing a haven for Jewish children in the picturesque mountains of Cold Spring, NY. SLC is renowned for the beauty of its site, the richness of its people and program, its sense of history and tradition, and the magic it creates when the whole thing comes together.
But now it is building a reputation for something else: an alternative b'nai mitzvah program that is inspiring and readily accessible to a wide range of Jews for whom a simple, outdoor service with an emphasis on spirit and meaning has special appeal. The camp has provided at least a dozen such simchas for each of the past 15 years, and often as many as twenty. This year, however, the program has reached new heights. 19 campers and 5 staff members will stand before the 700 member Surprise Lake Camp congregation over the course of the summer and recite the torah blessings, read from the torah, and give a d'var torah about the meaning of what they have read. The candidates will receive gifts from the camp and certificates of bar or bat mitzvah, their families will be there for the occasion, and they will enjoy a lovely kiddush afterwards.
The program is supervised by the Camp Rabbi and Jewish program staff. It gives young people an opportunity to develop their own material for a ceremony that is unique to them. No formal religious training is required. The camp gauges the skills and background of the participants and prepares them for whatever they are comfortable and capable of doing.
The cost for this priceless rite of passage? Nothing. The program is fully funded by the camp as part of its Jewish mission.
For more information or to make an appointment to cover a Saturday morning bar/bat mitzvah, please contact Jordan by phone (845-265-3616) or Email jordan@surpriselake.org