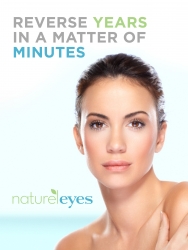 Salt Lake City, UT, August 02, 2012 --(
PR.com
)-- NaturelEyes, a company focused on providing innovative and more natural cosmetic products, announced they are donating twenty percent of all their online sales in the month of August to the National Breast Cancer Foundation. NaturelEyes stated they are excited to further support the fight against breast cancer. "We are proud to partner with the National Breast Cancer Foundation and raise money for finding the cure," Chad Reinertson, President of NaturelEyes said. "August is very special for us. We have all been affected by cancer and this is our month to support such an important cause." They are also running a social media promotion to donate $1 to the NBCF for every new Like they received on their Facebook page. People can visit www.natureleyes.com for more information, to purchase products, or to participate in the social media promotion.
As the demand for age reducing products increases so does the demand for natural, effective, non-surgical solutions. NaturelEyes is an innovative wrinkle treatment that reduces age lines and wrinkles in a matter of minutes with real results you can see for yourself. Made from natural and active ingredients NaturelEyes states they are an effective wrinkle treatment and botox alternative. The clear fast drying formula comes in a convenient topical applicator that can be applied at any time during the day in a matter of seconds. "NaturelEyes is a simple, one-step, more natural solution to wrinkles," according to their testimonials. The active ingredients begin to work instantly and customers say they can feel the tightening affects around the wrinkles. They invite you to experience the rejuvenating and wrinkle reducing effect for yourself.
NaturelEyes also announced recently they have expanded to the United Kingdom, Netherlands, Sweden, Germany, and Austria. "NaturelEyes is growing and we are now going to be sold in spa and retail locations all over the world," Jeff Bischoff, Vice President of NaturelEyes said. Partnering with VZ Hair and Glamour, LTD to increase distribution in these new markets NaturelEyes is available in major markets worldwide for consumers to experience. "We invite people to try NaturelEyes and see the results for themselves. Once they start to feel it working they'll know why NaturelEyes is so unique and unlike anything else they've tried," Jeff stated.
For more information, hear testimonials, see results, or participate in the NaturelEyes promotions please visit www.NaturelEyes.com or Facebook: www.facebook.com/NaturelEyes. You can also contact NaturelEyes at info@natureleyes.com.