VIRUN® Closes $2.1 Million Series-A Funding to Bolster Innovation and World-Wide Expansion
After almost 10 years of self-funding growth and business expansion, VIRUN is ready to further-illuminate its presence and capitalize on its patented technology portfolio and product development.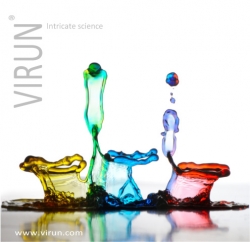 Walnut, CA, August 02, 2012 --(
PR.com
)-- VIRUN has successfully raised $2.1 Million from Bluestem, a Midwest private equity firm, in addition to private investors. The financing closed mid-July following the successful obtainment of several notices of allowances and patent grants for key technologies in the area of food, beverage, consumer products and pharmaceuticals.
In the Beginning
VIRUN was founded in 2003 as a biopharmaceutical corporation improving the pharmacokinetics and dynamics of drugs through its patented oral transferrin bound delivery technologies (MAPT). In 2004, VIRUN achieved greater than 61% oral bioavailability of human insulin compared to intravenous injection. One of the outcomes of VIRUN's pharmaceutical innovations was the development of encapsulation technologies that allowed increased absorption of non-polar (oil-soluble active constituent) compounds called "compositions." These compositions were applied to VIRUN's MAPT but also researched for toxicology and safety. An unexpected outcome was that the encapsulation technologies showed that the ingredients used to make the composition (emulsifier) did not significantly absorb into blood serum, yet, the non-polar active constituent did. This, among other things, gave birth to a new patented delivery of non-polar active constituents, such as Omega-3 EPA and DHA, into foods and beverages now branded OmegaH2O®. The Omega-3 EPA and DHA dissolves clear into beverages, with no impact on odor or taste, and is shelf stable. Even more importantly, the resultant formulation is safe since only the omega-3 significantly absorbs in the body. There is no need for EDTA or preservatives, there are no detergents or polysorbates.
Strengthening Through Partnering
VIRUN's success can be attributed to its ability to partner and joint venture with a range of companies seeking differentiation in the health, energy and diet foods and beverages markets. Our broad based partnerships range from fortune 100-plus companies to small development businesses looking to gain a competitive-edge in a crowded industry. Bluestem's partnership with VIRUN comes at no surprise, their management team, business portfolio and track record has provided high returns for its investors over many years and several funds. VIRUN can benefit, not just from the financial injection, but also with Bluestem as an active board member adding key decision-making helping support VIRUN's continued growth. Our partners for handling intellectual property matters, litigation and trademarks, McKenna Long & Aldridge LLP, recognize the continued interest from industry and their meticulousness is commendable. The law firm of Nevers, Palazzo, Packard, Wildermuth & Wynner, Virun's legal counsel on the transaction, will continue to assist VIRUN's ascendancy. Partnering is an important aspect, benevolence essential.
Philip Bromley, CEO of VIRUN stated, "We don't see Bluestem as a 'venture capital' company, rather, a partner and mentor; VIRUN's 3 segments of business, food/beverage, consumer products and pharmaceutical development are our solid foundation for rapid growth." Mr. Bromley further stated, "VIRUN will continue our mutual and ethical mode-of-thinking and share its success with those who wish to share and succeed with us - thank you for your continued support."
Tyler Stowater, Vice President/Partner at Bluestem and VIRUN director stated, "Bluestem believes in partnering with companies that secure long-term, sustainable growth manifesting strong returns to shareholders. VIRUN is a diamond-in-the-ruff, partnering with them further emphasizes our goal to assist growing companies and create revenue driven success – as VIRUN delivers 'clear solutions,' Bluestem delivers the design at which to actuate."
Rick Crandall, VIRUN Director stated, "My experience and involvement in successful business development will focus on helping the management team take the Company to the next level of growth and profitability. VIRUN has clearly innovated within a vibrant industry that has been searching for ways to create health and energy beverages with great taste and last on store shelves without being refrigerated. This is a game changer in the specialty drinks market."
What is Next
So far, VIRUN has developed the only shelf stable and clear Omega-3 EPA and DHA that is currently on the market. The same technology is being applied with the same results using CO Q10, Vitamin D3, Resveratrol and other well-accepted health ingredients. In addition, VIRUN has created a drug delivery platform utilizing natural transferrin technology to deliver drugs orally and with improved effectiveness. Consumer products are in development with major food, beverage and pharmaceutical companies world-wide.
About VIRUN
VIRUN® is a biotechnology company diversified into three segments of business; foods/beverage ingredient manufacturing, consumer product development and pharmaceutical drug delivery. VIRUN® produces novel food and beverage concentrates stemming from a vast patented portfolio. In addition to food and beverage finished products, VIRUN® produces and develops consumer products that allow substantiated health claims. Pharmaceuticals, VIRUN® utilize patented technologies to improve the pharmacokinetics (delivery) and dynamics (efficacy) of peptides and compounds that have poor oral bioavailability or over-all functionality.
Food & Beverage Concentrates
OmegaH2O® technology encapsulates Omega-3 EPA and DHA into a water soluble, clear and shelf stable omega-3 ingredient. Marketed and branded under the FUXIONS™ brand of products by Specialty Products Division at Hormel Foods Corporation, the technology allows to incorporate nutrients such as Omega-3 EPA & DHA into finished food and beverage products that were not able to be fortified before – in the end, VIRUN® allows marketability and differentiation in a competitive industry.
Consumer Product Development
Consumer products are becoming more effective, at the same time more regulated. There is an increasing demand to develop products that are unique and differentiate claims from others on the market. VIRUN® develops novel and patented consumer products that ultimately create new product space increasing success.
Pharmaceuticals
VIRUN® has patented technologies that allow improved oral bioavailability and increase functionality of peptides and compounds. MAPT (Mucosal Adhesive Penetrating Technology) is patented technology that binds transferrin's to a drug improving the endocytosis (delivery into cells). This has shown to improve the oral bioavailability (delivery into the body after ingestion). In addition, MAPD has shown to target specific cells. For example, Oncology, MAPD has been shown to deliver a proprietary drug to cancer cells initiating apoptosis (cancer cell death) and prevent metastasis (cancer cell growth).
Contact
VIRUN
Stephanie Bromley
(909) 839-0629
www.virun.com

Contact
Multimedia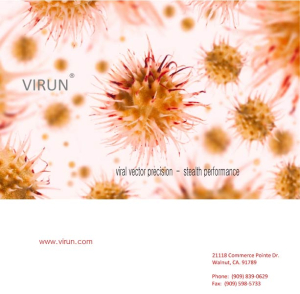 VIRUN develops patented natural drug delivery compositions utilizing transferrin bound conjugates and nanotechnology