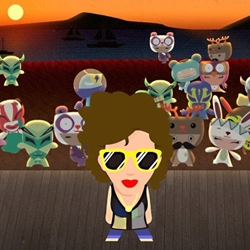 Los Angeles, CA, August 06, 2012 --(
PR.com
)-- Plug.dj collaborated with BBC Radio 1 to design and develop an Ibiza-themed room to support and enhance Radio 1's annual broadcasts from Ibiza.
Radio 1 has been broadcasting from the White Isle every summer since 1998, making 2012 the 15th consecutive year of dance music shows from the island. On Sunday, August 5th, Annie Mac hosted the Radio 1 "Ibiza Closing Party Show" live from the studios at Cafe Mambo.
To complement and extend the radio show, Radio 1 simultaneously hosted an interactive version of their Ibiza Closing Party in a custom branded room on the social music website plug.dj. Radio 1's plug.dj experience transported music fans from around the world to Ibiza, giving them a unique and fun way to participate in what has traditionally been a passive experience.
"Radio 1 is always looking to create new and innovative ways to enhance and extend its radio programmes using digital media," said Andy Puleston, Interactive Editor at BBC Radio 1. "The station's passion for dance music and the social, music experience that plug.dj provides meant we were able run a two hour online party alongside Annie Mac's Ibiza Closing show with Annie broadcasting live on Radio 1 and dropping tracks in the room at regular intervals."
To recreate the iconic Ibiza experience, the room featured many of the island's classic motifs; the beach at sunset, palm trees, paragliders, yachts and mountains in the distance. Completing the rich visual tapestry, a bespoke Annie Mac avatar was created, truly immersing participants in the experience and giving Annie a new way to connect with her fans.
"Nowhere else can fans play alongside their favorite DJs in Ibiza. On plug.dj we make that possible," said Steven Sacks, CEO of Plug DJ. "Plug DJ is connecting brands, djs and music fans in a unique and engaging way that has never been done before, where the overall experience is more impactful for everyone. It's a win-win-win."
More about Plug.dj:
Plug.dj is a real-time social media app that combines both video and music discovery in an interactive online environment, complete with dancing avatars and real-time chat translation in over 50 languages. In just a few short months,
plug.dj
has amassed over 100,000 users who have consumed over 30 million media plays.