Competitors Continue to Lose Ground to WestNet City Wi-Fi
Independent company offering low cost internet access becomes an overnight giant.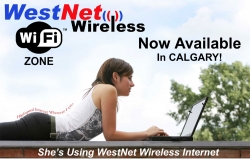 Calgary, Canada, August 10, 2012 --(
PR.com
)-- A wireless-based internet company has entered the active internet and voice market war in Calgary.
WestNet Communications LTD, based in Calgary, aggressively built a hybrid –cellular and Wi-Fi network. Founded by 30 year old Abdul Traya, the company surpassed 30,000 fixed wireless subscribers and over 75,000 mobile subscribers. Mobile accounts usually consist of tourists who need immediate mobile internet access on a laptop computer, tablet or smartphone.
Interest in WestNet City Wi-Fi surged last year when Calgary-based Shaw Communications Inc. ceased deployment of their traditional cellular based network and focused on wide area Wi-Fi. Shaw said it made "business sense, as Wi-Fi requires no licensing fees."
In 2008, Shaw paid $190 million in a federal government auction of wireless spectrum aimed at encouraging competition by making a place for new entrants into the industry. In the middle of 2011, Shaw said it was pushing ahead with its plans to launch a cell service, pledging $150 million to $200 million for a launch expected in early 2012. Shortly afterwards, Shaw turned towards Wi-Fi.
"Given that Wi-Fi spectrum is free and there are no device subsidies, we [Shaw] can build extensive Wi-Fi coverage at a substantially lower cost relative to a traditional wireless network and still provide our customers with an excellent broadband wireless experience," Shaw said.
Greg Bowman, an industry analyst who has been following WestNet for several years, says several factors made up the success of WestNet. "Traya has been no stranger to taking on large companies, not only has he been one of the very few that made substantial margins on municipal wide Wi-Fi, but his network actually works, as Wi-Fi is a free spectrum, it's also a hub for interference," says Bowman. "Traya always showed confidence, to see him even attempt to get piece of pie, is like a mom and pop corner store open up in New York Times Square overnight, in addition to buying a vacant lot and constructing the building," added Bowman.
Adding to the subscriber turf frontline, WestNet has been deploying its own fibre optic network in certain Calgary communities. WestNet would not comment on their fibre network, although WestNet did post few details on its website that the service is currently in "the works."
Early Start
According to Business in Calgary, Abdul started his company in 1996, providing various internet services and domain name services. During the winter of 1995 he registered his first domain name, that same year he patented an Analog Video over Phone invention. At the age of 16 when Apple Computer was not yet a household name, he cashed in on a settlement with Apple. In 1999 before Wi-Fi was even an industry standard, he experimented with wireless Ethernet.
Nowadays, WestNet mounts cellular style Wi-Fi transmitters onto both high and low rise buildings in Calgary. "It's been a lot of fun, when I was deploying the physical network, some days I would go to work with a briefcase, and then the next day I'd carry the case for my Black & Decker power drill." Said Traya, from his 11,000 square foot office in dowtown Calgary. "I'm regularly asked by municipalities all over North America to fix or deploy a city-wide Wi-Fi network, some of these cities spent millions of dollars on them and they don't work. I spent a faction on that just for the great City of Calgary," he added.
Telus predicted Traya's success 2 years ago. In 2010, Business in Calgary Magazine quoted Telus's spokesperson Jim Johannsson; "He might be on to something really interesting and he might find a customer niche that he can serve really well and be very successful."
Contact
WestNet
Michael Silverstein
403.774.7470
www.westnet.ca

Contact