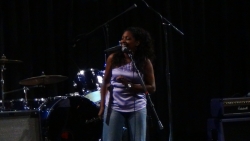 Palm Springs, CA, August 15, 2012 --(
PR.com
)-- For the first time ever, Gico Music's Independent soul artist Gina Carey will celebrate the release of her new CD "Live Love and Laugh" online.
Throughout the years, many recording artists have supported their new CD releases by throwing big elaborate CD release parties. At these parties, fans, industry reps and media are invited by record executives to join their artist as they showcase their new recordings to the world. In order to keep up with the glamorous trends of their star studded competitors, some independent artists have also adopted this promotional method. However, because of the lack of financial backing from major labels, many struggling independent artists cannot keep up with the demands of the music industry's traditions. Therefore, independent artists such as Gina Carey are finding creative ways to promote their music while working with a shoestring budget.
Singer, songwriter, and producer Gina Carey has found a new way to celebrate the release of her new CD "Live Love & Laugh" without even leaving home. On September 4, 2012 , Gina Carey will release her new CD "Live Love & Laugh" Volume One Live digitally. To support her new project, she has decided to celebrate this exciting event by hosting her first ever CD release party on her Facebook page. This CD gala will be uniquely different from her previous releases because this one will be all virtual. By throwing a traditional party, it is easy to incur massive cost. Building rentals, catering cost, invitations, VIPs perks, wardrobe, band fees etc. Also, public attendance is limited to those who are local. However, by hosting a party on Facebook, Gina will able to invite supporters worldwide to witness the virtual premier of her album.
Hosting this grand event will be Andre Scott, the facebook administrator of his own Soul music lovers group Vinyl Stew. Guest who arrive to Gina's virtual CD release party will enjoy a virtual night of elegance, contest, signed CD give-a-ways and several live virtual performances by Gina Carey and her husband "The Urban Soul Guitarist" John Carey who will be her opening act. Gina will perform all of the songs on her new CD. This will be the first official premier of Gina's new CD "Live Love & laugh". Guests who attend will be allowed to send congratulatory webcam messages and Gina will also be available to chat with her music supporters.
This amazing event will take place on Tuesday September 4, 2012 at 12pm - 2pm PST and 6pm - 7pm PST and is free to the public. Gina's virtual CD release party will be hosted online on her Facebook page at www.facebook.com/ginacareysings. Don't miss this exciting event. Although traditional CD release parties are exciting for most recording artists, Virtual parties can be equally as fulfilling and exciting, especially when you're able to share your special moment with friends globally without going broke in the end. For more information on Gina Carey go to www.ginacarey.net. Gina's New CD "Live Love & Laugh" will be available at CD Baby, Amazon, iTunes and more online retailers.