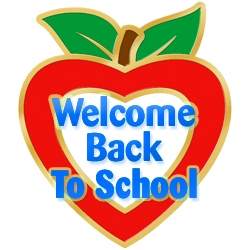 Hauppauge, NY, August 17, 2012 --(
PR.com
)-- A new school year is something to celebrate and Positive Promotions is excited to present an entire product line dedicated to starting the 2012-2013 school year off right. Our budget-friendly products will welcome back teachers, staff, and students with great enthusiasm.
The beginning of the school year is always an exciting time for the entire school body. There is no better way to foster that excitement into successful teaching and learning throughout the year than with low-cost, high impact gifts, tools, and incentives. Positive Promotions is committed to helping your school make a difference in the lives of students starting their first day back.
From school planners for both teachers and staff and students, to ID badge holders and lanyards, USB flash drives, deluxe gift sets for teachers with all the essentials, welcome back decorations and so much more, Positive Promotions has a solution for all your school year needs. With personalization options, your school name, logo, or mascot can proudly be put on display to promote your school community.
Attention-grabbing themes like "We Build the Future One Child at a Time," "Teamwork," and "The Future Begins Here," teachers, staff, and students will be kept motivated all year long.
Keeping school budgets in mind, Positive Promotions has priced their products to meet the squeeze of the economy. With over 120 items under $3.00 and 145 items under $5.00, school administrators will be pleased with the assortment they have to choose from. All of which can be found at
positivepromotions.com/Schools
/
Positive Promotions believes in the importance a good education can make in the lives of students. Their Welcome Back items can help encourage the relationship between teacher, staff, and students for a chance to create a better tomorrow.
Positive Promotions is a budget-friendly, one-stop-shopping source for awareness and educational tools offering 4 easy ways to order. Customers can order online anytime at www.positivepromotions.com, call toll free at 1-800-635-2666 to speak to with a knowledgeable customer service representative Monday-Friday from 8am-7pm EST, fax an order toll-free at 1-800-635-2329 anytime, or mail an order to Positive Promotions at 15 Gilpin Avenue, P.O. Box 18021 Hauppauge, NY 11788-8821. To request a catalog visit the company website at
positivepromotions.com
.