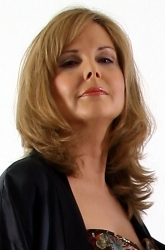 Washington, DC, June 28, 2007 --(
PR.com
)-- Marty Davis is interviewed by CBS/Westwood One's award-winning, nationally syndicated radio talk show host, Jim Bohannon, on July 13th.
The former network radio and TV news anchor launched
Chickaboomer.com
and her edgy, incisive blog nearly six months ago to rave reviews.
Marty Davis is the buzz of the New Media. The beautiful, brainy, baby boomer babe's irreverance and wit tackles the foibles of the Mainstream Media, politicians, celebrities with a honed, professional grade buzzsaw.
Ellis Henican, Fox News Political Analyst, Newsday columnist, Pulitzer Prize winner:
If you're searching for a tired, defeatist, woe-is-me view of life in the 21st Century, I'm warning you: Stay away from Chickaboomer and Marty Davis. Marty's site is a bold, funny, loose and energizing romp through the greatest time of life, when we've all finally discovered who we really are. In quirky news bites, gleefully subversive commentaries and fearless personal advice, she asks a challenging and high-spirited question, a question that too often never gets asked. The question is, "Why the heck not?"
Jim Bohannon, host, Westwood One's "Jim Bohannon Show" & "America In The Morning":
There are a zillion websites out there, but I'd really like you to check out one in particular: Chickaboomer. Marty Davis is a former network anchor, red-hot babe, and red-hot wit, whose sardonic take on the world is always worth a daily glance. That's why I invited her on my show.
Holland Cooke, News/Talk Radio Consultant/Operations/Programming:
What you are doing at Chickaboomer.com is so much fun, and so engaging, that it's a dang clinic in exploiting free, easy-to-use tools like Blogspot or Wordpress or Podomatic. It's tempting for people-in-radio (old media) to see-and-hear what you're doing (new media) and view it as "the future." Too Late. It's "the now." Clearly, you're a character. And very clever. And you make the most of the blogosphere by being as quick as you are. Work like yours is what's chip-chip-chipping-away-at (and I hate this expression, but it's handy) "the mainstream media."
Marty is available for media interviews at 828-467-3266. Marty has a master's degree in journalism from The American University in Washington, DC. She was Larry King's news anchor in his nationally syndicated radio talk show. Marty has appeared on MSNBC, CNBC, ABC, NBC and others.
###