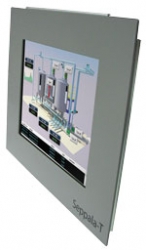 Christiansburg, VA, August 22, 2012 --(
PR.com
)-- CCS-Inc., a leader in industrial computer, enclosure, and networking solutions for harsh environments and mission-critical applications, recently introduced the Seppala-T, a more cost-effective panel PC for Human Machine Interface (HMI) applications.
Designed with flexibility in mind, the Seppala-T can be integrated with the current programmable logic controllers (PLCs) and automation systems already in place on factory floors. This capability gives users the option to upgrade their automation systems without having to replace all the individual components (such as PLCs/HMIs). The Seppala-T can also be standardized to interface with some existing automation vendors' technology, thereby increasing efficiencies in training and ease of use.
The concept began on the floor of PACK EXPO 2011, a major trade show for the processing and packaging industry. Factory owners, machine builders, and systems integrators at the show complained that they felt restricted by the leading proprietary technology and disappointed with the quality of support being offered.
CCS recognized a need in the marketplace for a more cost-effective panel PC for HMI applications. The Seppala-T, developed in less than a year through a partnership with InduSoft, is available pre-loaded with InduSoft Web Studio HMI software, an easy-to-use SCADA application designed for turning data into high-yield production.
"Seppala-T – named for sled dogs that work as a team in harsh conditions with high endurance – is not just a solution for the factory floor. It's a model of how teams came together to turn a problem into a solution," said Marty Muscatello, president and CEO.
The package includes an import wizard, which enables the solution to easily replace proprietary legacy systems. Available in 10-, 12-, and 15-inch models, this rugged computer has a touchscreen display built on Intel® Atom™ technology.
The Seppala-T utilizes solid state drives and a fanless configuration, enhancing reliability and durability. Capable of withstanding harsh conditions, the Seppala-T's front panel is IP-65 compliant and designed to meet NEMA 4/4x standards. The unit has also passed InduSoft's hardware certification testing.
"InduSoft is delighted to partner with CCS to develop a dependable, user-friendly unit that helps factories focus on what they do best," said Andre Bastos, Vice President of Quality Assurance, InduSoft.
The Seppala-T panel PC is available now. For more information, please visit
www.ccs-inc.com/portfolio/computers-profile/seppala-t or contact the CCS Team for help determining the most suitable feature set.
About CCS-Inc.
Located in Christiansburg, VA, CCS-Inc. offers a wide range of industrial computer, enclosure, and networking solutions for harsh environments and mission-critical applications. Solutions include industrial rackmount, node, fanless, and panel PCs as well as NEMA-rated computer and printer enclosures and integrated network racks. To learn more, visit www.ccs-inc.com.