VIRUN® Receives Eighth Notice-of-Allowance for Patent Applications and Introduces New "Space" Within Industry
After only a short while, VIRUN has obtained numerous Notice-of-Allowances and several patent grants for its nano-encapsulation technologies that allow non polar compounds, such as CoQ10 and Omega-3 EPA DHA, to dissolve clearer and shelf stable into foods and beverages. With this increase in patent proliferation, VIRUN introduces the NUTRA-BIOsciences™ platform to accelerate the expansion and exclusivity of new and added-value food/beverage products.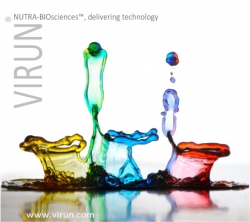 Walnut, CA, August 30, 2012 --(
PR.com
)-- VIRUN has obtained a Notice-of-Allowance for patent application number 20090317532 by the USPTO. This Notice-of-Allowance further strengthens VIRUN's initiative to instate itself as the leader in non polar, Omega-3 EPA DHA and CoQ10 encapsulation technologies. This advancement has created a new space within industry, NUTRA-BIOsciences™.
Diverse Intellectual Property – Strong Foundation
VIRUN has several patents and patent applications that support the nano-encapsulation of non polar compounds. There is not necessarily one technology suitable for any specific food or beverage application; cost, type of application, regulatory compliance and preference are important factors to consider when developing a new food or beverage product. VIRUN offers different patent and patent pending options that are GRAS and have clean label claim. This recent Notice-of-Allowance introduces yet another technology enabling further options to support the development and success of a food or beverage application. Having so many options, this eighth Notice-of-Allowance gives way toward a new space within our industry VIRUN dubs as NUTRA-BIOsciences™.
VIRUN Delivers "Options" by Introducing NUTRA-BIOsciences™
NUTRA-BIOsciences™ are the combination of nutraceutical ingredients with biotechnology to deliver healthy compounds that are safe. VIRUN has created this new space within our industry to help support the development of food and beverage applications containing novel compounds such as EPA DHA Omega-3, Lycopene, and Astaxanthin etc… The NUTRA-BIOsciences™ initiative brings added value to any particular food or beverage application. Whether it is incorporating shelf stable and clear EPA and DHA waters or creating stick-packs that deliver 50mg Coenzyme Q10 in a single teaspoon, NUTRA-BIOsciences™ introduce a new approach with unwavering results.
Philip Bromley, CEO of VIRUN stated, "With such new technologies, we felt compelled to create a new space within our industry that is specific toward what it is VIRUN does; this new space will help accelerate new branded products and support current brands with shelf stable and clearer EPA DHA Omega-3 compounds."
ABOUT VIRUN
Food & Beverage Concentrates
OmegaH2O® technology encapsulates Omega-3 EPA and DHA into a water soluble, clear and shelf stable omega-3 ingredient. Marketed and branded under the FUXIONS™ brand of products by Specialty Products Division at Hormel Foods Corporation, the technology allows to incorporate nutrients such as Omega-3 EPA & DHA into finished food and beverage products that were not able to be fortified before – in the end, VIRUN® allows marketability and differentiation in a competitive industry.
Consumer Product Development
Consumer products are becoming more effective, at the same time more regulated. There is an increasing demand to develop products that are unique and differentiate claims from others on the market. VIRUN® develops novel and patented consumer products that ultimately create new product space increasing success.
Pharmaceuticals
VIRUN® has patented technologies that allow improved oral bioavailability and increase functionality of peptides and compounds. MAPT (Mucosal Adhesive Penetrating Technology) is patented technology that binds transferrin's to a drug improving the endocytosis (delivery into cells). This has shown to improve the oral bioavailability (delivery into the body after ingestion). In addition, MAPD has shown to target specific cells. For example, Oncology, MAPD has been shown to deliver a proprietary drug to cancer cells initiating apoptosis (cancer cell death) and prevent metastasis (cancer cell growth).
Contact
VIRUN
Stephanie Bromley
(909) 839-0629
www.virun.com

Contact
Multimedia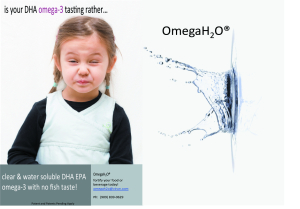 OmegaH2O - clear, water soluble and shelf stable Omega-3 DHA and EPA for foods and beverages.