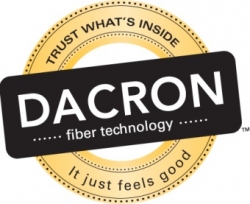 Kennesaw, GA, September 05, 2012 --(
PR.com
)-- INVISTA's new DACRON® Dreamessence™ fiberfill is a luxurious and lasting down alternative at an affordable price, for pillows that stay full and comfortable night after night. INVISTA will introduce its hypo-allergenic, machine washable DACRON® Dreamessence™ fiberfill to the trade through Hollander Home Fashions Corp. at New York Home Fashions Market Week, Sept. 10-13.
At the core of the Dreamessence™ brand is DACRON® fiber technology. The unique fine-denier, spiral fibers are engineered to maintain down-like softness while providing the feel of micro denier fiber with lasting loft.
"Pillows filled with DACRON® Dreamessence™ fiberfill allow for great shelf appeal at an attractive retail price point compared to down pillows," said Chris Basinger, North American sales and marketing manager for INVISTA's DACRON® fiberfill business. "Excitement has been building for the DACRON® Dreamessence™ brand fiberfill offering, and we're looking forward to introducing it to the industry."
Pillows made with DACRON® Dreamessence™ down-alternative fiberfill carry the DACRON® fiber quality seal on the package. The DACRON® fiber quality seal is based on a legacy of fiber technologies that have earned people's trust for more than 50 years. In nationwide consumer surveys, two-thirds of consumers recognize the DACRON® brand—one of the highest ratings over other comparable home textile brands.(1) Sixty percent of home textile shoppers surveyed say they would pay more for bedding products featuring the DACRON® fiberfill quality seal.(1)
About INVISTA
INVISTA is one of the world's largest integrated producers of polymers and fibers, primarily for nylon, spandex and polyester applications. With a business presence in over 20 countries, INVISTA's global businesses deliver exceptional value for their customers through technology innovations, market insights and a powerful portfolio of global trademarks including: ADI-PURE®, ANTRON®, AVORA®, C12™, COMFOREL®, COOLMAX®, CORDURA®, CORFREE®, DACRON®, DBE®, DYTEK®, FRESHFX®, LYCRA®, PERFORMA™, POLARGUARD®, POLYSHIELD®, POLYCLEAR®, SOLARMAX®, STAINMASTER®, SUPPLEX®, SUPRIVA™, TACTEL®, TACTESSE®, TERATE®, TERATHANE® and THERMOLITE®. For more information, visit www.INVISTA.com.
Editors Note: (1) 2010 online blind consumer research with nationally representative panel of U.S. home textiles decision makers. N=1041. DACRON® and all other trademarks and logos herein are property of INVISTA. The use, reproduction, copying or redistribution of DACRON® and other trademarks in connection with any products or services without the prior written permission of INVISTA is prohibited.