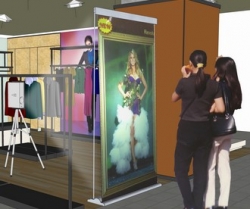 Las Vegas, NV, September 10, 2012 --(
PR.com
)-- RichTech Systems has developed and patented another cutting-edge technology in its roll up projection banner, which allows the audience to see and hear anything uploaded to the unit's SD card. This banner uses projection film to display a company's business information without any printing required at all. The digital display allows users to quickly change information contained on the banner without having to reprint it. For example, if a business changes locations or phone numbers, the information can be changed digitally with no additional expense or inconvenience waiting for the banner to be reprinted.
The projection banner offers a portable solution with its ability to roll up. Portability can really be an issue when banners are moved from location to location for events such as conferences, trade shows, meetings, exhibitions and fairs. The banner is easily retractable and easy to store in a small stand base. This also means that it is extremely easy to set up. One person could easily install a 100" digital display in under ten minutes.
The projection film itself offers customers a huge display with a minimum size of 200cm (approximately 79") high by 110cm (approximately 43") wide. Customers can also order the film to be cut in custom sizes and shapes. This makes the projection banner an extremely customizable and cost effective solution with a retail starting price of just $499. When this price is compared to other technologies available such as LCD screens or LED screens, the roll up projection banner offers great value for money. These other rear projection technology options are also extremely heavy and bulky in comparison.
RichTech Systems offers everything customers need to get started, including the projection film or the entire projection banner system consisting of a project, media player with stand, carrying case and projection banner with stand. Customers are free to use projectors they may already have or even use their computer as a media player with a VGA cable to connect it with the projector.
The system is extremely versatile with customers being able to change the image, audio and text as often as they would like to have an engaging and eye-catching banner regardless of where it is located. The projection banner can be used in many situations, such as in storefront windows, restaurants, hotel lobbies and at any indoor event.
Schools could easily utilize the technology to help guide students and their parents at open house events and museums could use it to introduce different exhibits. The same system can be used time and time again with simple digital changes being made to customize it for every different purpose. The possibilities are only limited by the customer's imagination. There is no better time than now to order this system; it wows and amazes audiences when they see it in action.
www.richtechsystem.com/html/projection-banner.html
About the Company:
RichTech Systems Ltd. is committed to working hand in hand with their customers to provide the best technologies with outstanding customer service. They specialize in a number of different areas including virtual reality, touchscreen systems, interactive projection and multimedia displays. Please visit their website at http://www.richtechsystem.com to see why they have become an award winning company leading the way in innovative multimedia solutions.