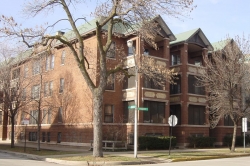 New York, NY, September 12, 2012 --(
PR.com
)-- Terrace Capital has recently arranged for a Fannie Mae guaranty on an $8.87MM, first mortgage, multifamily portfolio located in Chicago, IL. The proceeds were used by the Sponsor, Leon Harris, for the repayment of existing debt and equity for future acquisitions. The mortgage had a 10 year fixed term, a 4.20% rate and a 30 year amortization schedule and was collateralized by five multifamily complexes. Mr. Harris, utilized the services of Terrace Capital to navigate the complex stream of Fannie Mae paperwork and the tedious nature of the process.
The Harris Apartments, a Class A portfolio of five residential complexes with 79 units, are located in Chicago, IL. The buildings have one, two & three bedroom apartments, high end finishes and are well located; with access to all urban life has to offer in some of the most desirable neighborhoods of Northern Chicago, including Lincoln Square, Wrigleyville and Wicker Park.
According to a senior underwriter at Terrace Capital, the Fannie Mae program generally provides the most advantageous rates for non-recourse, multifamily loans though there are multiple markets in the US where Fannie Mae and Freddie Mac are unwilling to lend at a 75% LTV. These markets are called "Pre-review" markets and include such states as Florida, Michigan, Indiana, Ohio and several submarkets in Texas, Nevada, Georgia, California and Louisiana. Terrace has successfully secured non-recourse loans, via CMBS executions, in the aforementioned markets at loan-to-value ratios of 75% and continues to serve clients that are unable to garner Fannie or Freddie financing.
Terrace Capital focuses on non-recourse loans and preferred equity of $5MM and greater on income producing retail, office, industrial, multifamily, self-storage and hotel properties throughout the continental United States.
The Firm is a leader in structuring permanent mortgages and equity for a wide range of real estate transactions.
For more information about Terrace Capital and the services it provides, go to
www.terracecapital.com
.