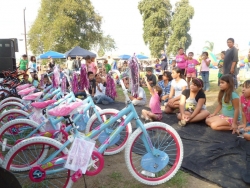 Stanton, CA, September 27, 2012 --(
PR.com
)-- Xclaimed Ministries wrapped up their 2012 summer outreach schedule on September 22. It is estimated that over 400 people attended the "Concert in the Park" of which nearly half were children. The purpose of the Xclaimed Ministries concerts is to reach out into the community and help meet the needs of the low income families and children. At this event, Xclaimed gave away 10 new bicycles, two toys to each child in attendance, free hamburger meals to everyone and vouchers for 6 families to Adventure City Theme Park. Chasity Asuega, an Xclaimed volunteer, said, "The line for toys was longer than normal. It went all the way into the parking lot, so we had to form two separate lines for the kids." There were close to 200 children and each was very enthusiastic about receiving their free toys.
Paul Karanick, evangelist of Xclaimed Ministries, said, "We have noticed that each event has had many new faces. It is nice to see that the word is getting out and that many different people are beginning to attend. Our next major event will be our Annual Christmas Festival. Last year we had over 1,000 people attend and with the crowds that we have had this summer, we are expecting the attendance to be even greater for this year's Christmas event. For Christmas, we typically do the same as our other concerts except we give away much more because of the crowd size and the season. Anyone looking for details on the event can see our website at www.xclaimed.org or on www.facebook.com/xclaimed."
For the 2012 Summer Schedule, Karanick said, "At our four concerts for this year, we have given away 42 new bicycles, nearly 2,000 toys, over 1,500 free meals and hundreds of free Bibles. Approximately 1,600 people have heard the Gospel preached and between 8-10% have given their life to Jesus Christ."
Karanick is also the author of the book, "Faith of a Mustard Seed." He is now scheduling speaking dates to teach others how to "Pursue a life led by faith rather than fear; hope rather than doubt." The book gives hope to those who want to have faith but fear keeps getting in their way.
For additional information visit www.xclaimed.org or contact Paul Karanick at (714) 803-9692.