Crucifixion-Fiction, When Christ Returns Female. MJ Mancin's Scorching Thriller "Revelation" Catches Fire.
How MJ Mancini took a book idea and made it a blockbuster, best-selling novel worthy of a Hollywood screenplay. "Too many self-published authors miss the fundamentals. Professional editing is crucial to a manuscript. Without it, potentially great writers simply turn the reader off. They shoot themselves in the leg before they even get a career started," says MJ Mancini.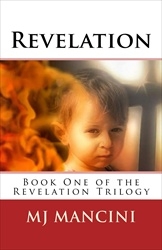 New York, NY, September 27, 2012 --(
PR.com
)-- Heads and pages turn as MJ Mancini unveils his new trilogy entitled "Revelation." It twists and turns right up to the thrilling climax.
Met with rave reviews, his readers are astounded at Mancini's ability to blend historical fact with thrilling fiction. "Some items seemed so real, I had to Google them," says Patrick Keelan, an eye doctor whose patient recommended the debut novel during an appointment. "Combining a high-stakes chase throughout Europe intertwined with centuries old secrets, ancient societies and modern day peril is absolutely captivating," says Kathy Rotella, a recently added fan to MJ Mancini's growing list.
The first book in his trilogy, "Revelation" has been met with mixed emotions. Zealous Christians are outraged by the controversial topic. After its release, a small group of fanatics staged a candlelight vigil in front of Mancini's Jersey Shore home in protest. "I didn't intend to offend anyone, it's really just an exciting story about the love a man has for his daughter," Mancini commented.
Murder, betrayal, and the Holy Church are twisted together in this spiraling epic sure to reach the best-seller's list in upcoming months. Mancini, a self published writer, gives credit to his independent editor for helping him through the arduous process. "A professional editor was indispensable during this process. With his advice, and direction, my work became polished and market ready," says Mancini. "More self-published authors should invest in their product up front." Mancini found veteran editor John Paine who has a list of more than five-hundred published edits to his name. "I never thought that a novel about the second coming would be so gripping and entertaining. If you like Dan Brown, you're going to love this thriller," Paine says.
With the trend towards independent publishing, mainstream publishers are experiencing tumultuous times. Blockbuster sales for debut novels are few and far between. White noise created by a slew of would-be authors makes it difficult for a great book to reach the end user. Millions of e-books are offered online at cut rate prices, tainting the audience, leaving them with piles of unread junk. "It's refreshing to see a new and talented author with a knack for writing action and dialog. Mancini leaves the reader begging for more," says book reviewer Debra Potash. "Look for Mancini to be the next blockbuster author."
"Revelation"
, book one of the trilogy, is on sale now at Barnes & Noble, Amazon and Smashwords. Soon to be released is the sequel, "Bloodline", which promises to deliver as much murderous action and suspense as the first. The final book in the series, "Second Coming" is scheduled to be released in January.
Contact
Revelation Press, Inc.
Rachel Rose
732-300-2933
www.revelationthenovel.com

Contact