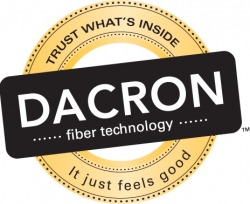 Kennesaw, GA, September 28, 2012 --(
PR.com
)-- Christopher T. Basinger has joined INVISTA as Sales and Marketing Manager for DACRON® fiberfill North America. Basinger, who is based in North Carolina, will lead the strategic sales and branding of INVISTA's DACRON® fiberfill products for the North American bedding industry.
"Chris Basinger adds an important dimension to the DACRON® brand team," said Roberto Fontanillas, global business director for INVISTA's DACRON® fiberfill business. "His varied experience and deep knowledge of branding and retail market dynamics will prove invaluable as we expand consumer recognition of the DACRON® brand and grow business with our mill and retailer partners through product innovation."
The DACRON® brand, one of the leading home textile brands in consumer awareness studies, has been associated with superior bedding fiberfill for more than 50 years. With two-thirds of United States consumers surveyed indicating they are familiar with the DACRON® brand, the brand has one of the highest levels of consumer awareness among popular home furnishings brands [2010 Online blind consumer research with nationally representative panel of U.S. home textiles decision makers, N=1041.].
Basinger brings a rich combination of experiences in retail sales and marketing as well textiles manufacturing and research and development from positions held at companies such as Hanesbrands, Inc., Newell Rubbermaid and Unifi Manufacturing. Basinger holds a B.S. in Textile and Apparel Management from North Carolina State University and an M.B.A. from Wake Forest University.
About INVISTA
INVISTA is one of the world's largest integrated producers of polymers and fibers, primarily for nylon, spandex and polyester applications. With a business presence in over 20 countries, INVISTA's global businesses deliver exceptional value for their customers through technology innovations, market insights and a powerful portfolio of global trademarks including: ADI-PURE®, ANTRON®, AVORA®, C12™, COMFOREL®, COOLMAX®, CORDURA®, CORFREE®, DACRON®, DBE®, DYTEK®, FRESHFX®, LYCRA®, PERFORMA™, POLARGUARD®, POLYSHIELD®, POLYCLEAR®, SOLARMAX®, STAINMASTER®, SUPPLEX®, SUPRIVA™, TACTEL®, TACTESSE®, TERATE®, TERATHANE® and THERMOLITE®. For more information, visit www.INVISTA.com.