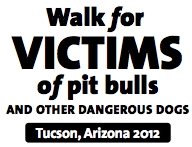 Tucson, AZ, October 13, 2012 --(
PR.com
)-- Local grassroots activists and the Facebook Pit Bull Regulation Project Group announce the line up of events on Saturday, October 27th for the Walk For Victims of Pit Bulls and Other Dangerous Dogs. The dog bite victims' advocacy event kicks off at high noon in Lincoln Park at 4325 South Pantano Road. Admission is free. Creators of the event to raise awareness about dog bite victims, Tucson-based Melissa "Mellie" Baze and Matthew Pimple, are thrilled to announce the line up for the event:
- Tucson Mayor Jonathan Rothschild will begin the event with a short presentation, and Tamie Williams, a dog bite victim's mother flying in from Canada, will speak about our mission and goals for the event.
- Attendee walkers will carry photos and signs of victims who could not attend (some sign making materials and victim photos will be available for attendees).
- After the Walk, Tucson's favorite band, Funky Bonz will begin the entertainment portion of the event, and will be followed by two of their VIP guest speakers, Colleen Lynn and Tony Solesky.
- Attendees are welcome to have lunch and drinks, provided by East Coast Super Subs, who will be there selling their delicious hot/cold subs, appetizers and drinks.
- Tucson's best Blues Band, Black Cat Bones will perform after the two guest speakers with some fantastic Blues music, followed by one or two more VIP guest speakers.
- Donations will be taken for 4-year old Levi Mulkey of Chino Valley, Arizona, a recent victim of a vicious dog mauling. Levi is the son of Tiffany and Matthew Mulkey. Attendees will receive either a t-shirt or a ribbon for their donations.
- Attendees are encouraged to sign the guest book to receive updates about future events.
The first ever public event supporting and raising awareness for dog bite victims, Walk For Victims of Pit Bulls and Other Dangerous Dogs, is shaping up to be a remarkable and memorable event taking place right here in Tucson. Melissa "Mellie" Baze and Matthew Pimple hope to see a diverse range of attendees including members of neighborhood associations, parents, teachers, walkers and joggers, medical health professionals, dog bite injury attorneys, letter carriers and many more who encompass the large range of those affected by dog bite-related injuries.
Event Details
Walk for Victims of Pit Bulls and Other Dangerous Dogs
Saturday, October 27th 2012
12:00 Noon - 7pm
Lincoln Park 4325 South Pantano Road - Tucson, AZ 85730
Admission is Free
No dogs are allowed at the event, for the safety of everyone involved.
Tucson Police Department has provided officers to be present at the event to enforce laws and rules, and to ensure the safety of everyone included.
Download the official event flyer:
http://www.dogsbite.org/pdf/walk-for-victims-of-pit-bulls-tucson.pdf
About Us
Melissa "Mellie" Baze and Matthew Pimple are members of the Facebook Pit Bull Regulation Project Group, a group that helps victims nationally and internationally, and has helped to put this event together. Baze is also a Social Worker and can be reached at 520-261-9913 for press inquiries. The website,
walkforvictimsofpitbulls.blogspot.com
, was launched in March 2012 and contains video and photo stories of victims injured and killed by dangerous dogs. Find the event on Facebook as well:
http://www.facebook.com/Walkforvictimsofpbodd