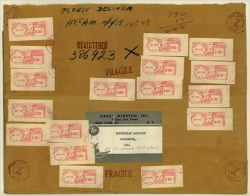 Los Angeles, CA, October 29, 2012 --(
PR.com
)-- When jeweler Harry Winston donated the Hope Diamond to the Smithsonian Institution in 1958, he sent the fabled gem by Registered First-Class Mail. Winston told a reporter for the Washington Post that ". . . [Registered Mail is] the safest way to ship gems. . . . I've sent gems all over the world that way."
Now, for the first time, TransGuardian's proprietary, online shipping software has made Registered Mail processing and tracking – once complex and labor-intensive – user-friendly, understandable, quick, easy, automated, online and economical.
Winston spent only $145.29 on the Hope Diamond shipment; of course, since 1958, the cost of postage has risen considerably. But USPS Registered Mail is still the most economical and safest means to ship high-value merchandise – especially with insurance provided by TransGuardian (
www.transguardian.com
) through Wells Fargo Insurance Services. Through TransGuardian, a shipper may send $150,000 via Registered Mail for as low as $162.76 – compared to FedEx DVX pricing of $337.32 – savings of 52%!
Registered Mail (RM) offers even more savings for shippers of heavy merchandise – such as precious metals and watches. With a USPS Large Flat Rate Priority Mail Box ("If it fits, it ships!"), a shipper may send up to 70 lbs of merchandise through TransGuardian for $15.39 – compared to FedEx DVX Ground pricing (not including insurance) of $57.92 – saving over 73%!
RM parcels are safer than any other means of shipping for many reasons. First, they must be tendered at a manned Post Office. The postal employee affixes an official USPS Round Stamp to the parcel, sealing every seam in the package. The postal employee also Round Stamps the FIRM Book (RM Manifest, which TransGuardian produces automatically online), providing the shipper with evidence of USPS acceptance that holds up in a court of law. As RM parcels traverse the mail stream, they are locked in special RM security cages at every step, and USPS employees sign for the parcel every time it changes hands. When RM parcels fly on airplanes (usually UPS and FedEx jets), they travel in special, locked, hardened containers and receive direct tarmac supervision at the airports of departure and arrival. All RM parcels require a signature at the point of delivery, so paying extra for Signature Confirmation is unnecessary.
USPS RM enjoys another, unique safeguard – the US Postal Inspector Service (USPIS), the federal law enforcement arm of the US Postal Service. It is a felony to tamper with US Mail, incurring severe penalties and incarceration, and the USPIS takes investigation and prosecution seriously. Other carriers must call in law-enforcement. The USPS has its own law enforcement agency, and TransGuardian works very closely and successfully on behalf of its clients with the dedicated and efficient officers of the USPIS.
Here's how easy it is to use Registered Mail with TransGuardian: open your free TransGuardian account at
www.transguardian.com
. Request high-value discounts by calling (877)570-SHIP (7447). TransGuardian staff will gladly walk you through the process, which, once done the first time, becomes simple, easy, and quick.
First, create a shipment using TransGuardian's software and choose "Registered Mail" as an option. Choose the type of USPS box, envelope, or other container desired. Declare the value you want TransGuardian's policy to insure. Input the RM bar code number (this can be done now or later, after obtaining this number when tendering the parcel at the Post Office). Choose the price quotation desired. Buy and print a Registered Mail label. Keep producing as many RM labels as needed. When done, print the automatically generated online RM FIRM Book (manifest), which lists all the parcels for the day. Print the automatically generated online USPS 5630 SCAN Form, which consolidates the bar codes for all parcels into a single bar code. Take the parcels, the FIRM Book, and the SCAN Form to the Post Office. Obtain a Round Stamp on the FIRM Book, have the SCAN Form scanned, and your fully insured RM parcels are on their way!
Using TransGuardian's online multi-carrier tracking program, RADAR, you will be able to track scanning events for both the Delivery Confirmation Tracking Number on the USPS label, as well as for the RM bar code. RADAR is the only tracking system that reports scanning events for both of these bar codes in a single program on one page view – not even the USPS website does that.
Two drawbacks of Registered Mail are taking the parcels to the Post Office and time in transit. RM Parcels must be Round Stamped and this means you must take RM parcels to a manned Post Office – although business mailers often can use a USPS Business Mail Entry Unit (BMEU), rather than waiting in consumer counter lines. And the security requirement of signing for the parcel at every transfer point in the mail stream slows delivery compared to other services. It generally takes 3-7 days.
But the outstanding advantages of Registered Mail are: unrivalled security and unsurpassed savings. For precious metals dealers and online retailers who promise deferred delivery time, Registered Mail is an ideal default solution, because when faster delivery is required, TransGuardian's system also offers insurance up to $150,000 via overnight services, such as USPS Express Mail, UPS, FedEx, and Regional Carriers.