QUORiON Primed to Unveil New Restaurant POS System
QUORiON announces production of new restaurant POS system - the QTouch15. A complete POS system for enterprising restaurant owners, who are looking for flexibility, smooth workflow flows, and controlled costs plus revenue streams.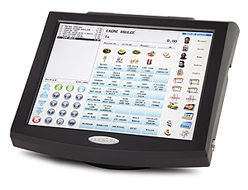 Erfurt, Germany, October 30, 2012 --(
PR.com
)-- After the successful launch of its Android based portable ordering terminal earlier this year, QUORiON, the German producer of point of sale solutions, follows up with its new
restaurant POS system
– the QTouch15B. Although the QTouch15 can also serve the needs of retail stores, the POS system appears destined for restaurants, because of its large, spill proof touch screen and fanless processor.
At the heart of the QTouch 15 lies the ARM Cortex A8 processor one often sees in digital products such as network devices, consumer electronics as well as automotive technology. "We chose the Cortex 8, because it represents a large step up in low power consumption and high performance processing. It delivers everything we need to run demanding applications we see in the restaurant sector. Moreover, it is proven in the electronics industry, as ARM ships millions annually," Mr Matthias Hesse, QUORiON's product manager explains. "The Cortex A8 has the media processing power for graphical table plans and touch screen menus built-in. The cost benefit ratio is outstanding. Exactly what everyone is looking for in a POS system." Despite the processing power, the chip is fanless and allows the QTouch 15 to operate silently, even under extreme duress. Something restaurant owners will undoubtedly look for in their selection process.
In addition, QUORiON's new restaurant POS system will seek to maximize reliability. It features NAND FLASH, which delivers fast access times, low power requirements, and excellent shock resistance. "Many of our
POS systems
end up in some of the most demanding situations. Nevertheless, they continue to operate even without much user care. I just spoke with a POS installer on LinkedIn the other day, who mentioned that our products were some of the most durable he has ever installed. As a manufacturer we take great pride in that. The QTouch15 will continue this tradition from the ground up," Mr. Patrick Grueschow, QUORiON's VP of Marketing asserts. Combined with the spill proof display, an embedded operating system that eliminates all the PC hassles, and the closed housing, the QTouch15 certainly looks like it could live up to that expectation.
Thanks to the included QMP POS software, servers will have a 15 inch order entry area, complete with menu driven transaction processing, graphical table plans, and interactive table management. To illustrate, color codes show the status of a table and thereby communicate information about it. Servers can then see which tables are open or closed as well as those that the service staff has neglected. "The service personnel can manage all the tables, thereby contributing to a restaurant's operating efficiency and its customer turn-over. It's simple to separate / combine tables, or reopen them," Mr. Hesse adds. Servers can also take advantage of the software's table floating capability, which automatically transfers all active sales data per customer to any POS system in the restaurant network.
Furthermore, the QTouch15 has an array of various interfaces that includes RS232, USB, and LAN slots. The restaurant will be able to network POS systems, add beverage dispensers as well as deploy the QOrder portable ordering system, which QUORiON now offers. Taken together the German POS manufacturer has made a complete restaurant solution available for enterprising restaurant owners, who are looking to enhance their flexibility, smooth out workflow flows, and control cost plus revenue streams.
The QTouch 15 restaurant POS system will become available in more than 70 countries. Contact QUORiON for additional details.
Contact
QUORiON Data Systems
Patrick Grueschow
49 362045420
http://www.quorion.de
Mrs. Cordula Rehfeldt, Sales Director
Mail: sales@quorion.de

Contact
Multimedia
QTouch15 PDF brochure. Restaurant POS system with 15 inch touch screen, ARM Cortex A8 processor, and included POS software.