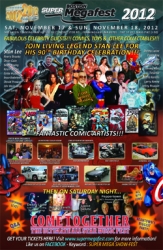 Framingham, MA, October 28, 2012 --(
PR.com
)-- Hollywood comes to New England! Movies, Super Heroes, Music, Wrestling and Intergalactic Fun come together in Framingham at the Super Megafest, New England's premiere Celebrity Pop Culture Fan Fest.
This year's event will feature Hollywood icons & celebrities, rock and roll, science fiction and wrestling legends. The Super Megafest takes place Saturday, Nov. 17th from 10:30am to 6pm & Sunday, Nov 18th from 10:30am to 5pm at the Sheraton Framingham Hotel located at 1657 Worcester Rd., Framingham, MA 01701.
Comic, Movie and TV fans will be thrilled with the very rare appearance of Stan Lee – Co-creator of the Incredible Hulk, Iron Man, the Mighty Thor, X-Men, Daredevil, Doctor Strange and Marvel's most successful character, Spider-Man. Dean Cain – who portrayed both Superman and Clark Kent for "Lois & Clark: The New Adventures of Superman" and host of "Ripley's Believe It or Not." Bruce Boxleitner - Tron, Babylon 5 plus much more. Kevin Sorbo - of Hercules fame, Andromeda and much more. David Prowse – Darth Vader in the original Star Wars trilogy. Sean Young - star in Blade Runner, Dune, and No Way Out. Deep Roy who starred as Yoda in Star Wars: Empire Strikes Back and Oompa-Loompa in the modern version of Willy Wonka & the Chocolate Factory. Traci Lords - film actress, producer, film director, writer and singer. Rusty Goffe - Oompa-Loompa in the 1971 version of Willy Wonka & the Chocolate Factory and Jawa in Star Wars Episode IV: A New Hope. Ernie Hudson - Winston Zeddemore, who enlists with the Ghostbusters in the 1984 film Ghostbusters and its 1989 sequel. John Amos – Star of Roots, Good Times, The Mary Tyler Moore Show, The District, The Fresh Prince of Bel-Air and Maude. John Wesley Shipp - best known as Mitch Leery, the title character's father on the television drama Dawson's Creek from 1998 to 2001 and for roles in several daytime soap operas, played the title role of Barry Allen/The Flash in CBS's The Flash plus much more. Larry Kenny – voiced Lion-O of the Thundercats throughout the mid eighties. Denny Laine - Meet legendary musician and co-founder of Moody Blues and original member & lead guitarist of Wings with Paul McCartney from 1971 to 1981. Many other guests to be announced.
WWF guests include Jimmy Hart, Paul Bearer, Eugene and Tatanka. Wrestling TNA Knockouts include Jackie Haas, Angelina Love, Velvet Sky, and Rosita! WWE Divas include Maria Kanellis and Jillian Hall. Many other guests to be announced.
Comic artists include Paul Ryan – worked extensively for Marvel Comics and DC Comics on a number of super-hero comics including DP7, Fantastic Four, Spiderman, Batman, Flash, Superman and the Phantom plus much more. John Hebert- X-Men Adventures, Punisher, Deathlok and current Captain Action artist. Greg Larocque - Spider-man, The Avengers, Justice League, Legion of Super-Heroes, & the Flash among many more. Jose Delbo - main artist on Wonder Woman plus much, much more. Hannibal King - former Magic: The Gathering artist for Wizards of the Coast and worked on comics ranging from Grendel for old Comico to Marvel's Excaliber to DC's Green Arrow. Daxiong - has published over 100 books in Asia, 3 in Europe with Solei Publishing plus much more. Jamal Igle - Green Lantern, G.I. Joe, Martian Manhunter and Supergirl plus much more.
The stars will be signing autographs and doing Q & A sessions with fans throughout the day. Professional photos with most celebrities will be available on site. There will also be an incredible dealers room chock full of the hottest collectibles, gifts, toys, comics, movie posters, and trading cards from the 1960s to today.
The Come Together Mega Music Fest celebrates the magical music of some of your favorite artists! Featuring PepperTown, the premiere Beatles Tribute Band, Niki Luparelli and the Gold Diggers and Loose Salute who will feature the works of Michael Nesmith. Showtime is 7:30 PM to Midnight on Saturday, November 17th.
For more info log onto
www.supermegafest.com
or call (508) 981 3447 or (201) 338 4810. For newspaper interviews call: Phone (201) 338 4810 or email: heroes@optonline.net.