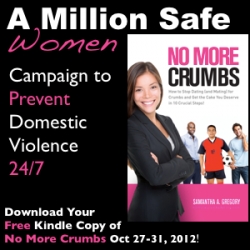 Atlanta, GA, October 27, 2012 --(
PR.com
)-- Atlanta native and Indie author, Samantha Gregory is giving away a million copies of her book, No More Crumbs, on Kindle for 5 days from October 27-31. The reason is because it's the last week of October and almost the end of Domestic Violence awareness month. But just because the month is over it doesn't mean a million women, a teenage girl, and children's nightmare will end. It takes courage to get help but sometimes there is just nowhere to turn.
Samantha Gregory says, "I can't personally help all the victims of domestic violence but my heart goes out to them because I was one of them. But I can do something to help prevent it from happening to a million women and teen girls". That's why she is starting the Million Safe Women mini campaign. It will be quick, but effective and will empower, liberate, and keep women safe because they will get their hands on this free resource.
You can help keep a million women in the Million Safe Women Domestic Violence Prevention campaign?
Download your free copy
of No More Crumbs at Amazon.com and spread the word so as many women as possible can stay safe and live abuse-free.
About the Book
No More Crumbs: How to Stop Dating (and Mating) for Crumbs and Get the Cake You Deserve in 10 Crucial Steps! shows women how to make better relationship choices. It takes you through self-discovery and self-love exercises, reveals the 10 behaviors a woman should never accept from a man, and outlines the 10 Crucial Steps she must take to go from crumb snatcher to cake connoisseur. Reading this book and applying its principles will help you start seeing results in less than a month. This is the book for smart women who feel anything but when it comes to romantic relationships.
About the Author
Samantha Gregory is the Love and Liberation expert. Her passion is empowering women to succeed and discover the well-spring of love flowing in their hearts through conversations and coaching. She is excited about delivering programs that liberate women from the self-limiting beliefs, fear, and depression that keep them captive. Ms. Gregory helps professional women who are stuck in a cycle of unfulfilling relationships transform into liberated ladies who become relationship geniuses after working with her.