Barney's Beanery Turns Up the Election Heat with "Rock the Beer Vote"
Patrons of the Legendary Los Angeles Area RoadHouse Cast the Vote for Their Favorite Presidential Candidates by Hitting the Taps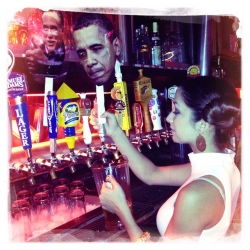 West Hollywood, CA, November 01, 2012 --(
PR.com
)-- Barney's Beanery, the third oldest restaurant in Los Angeles and a renowned celebrity hangout, has launched its fifth "Rock the Beer Vote" campaign this week throughout all five of their Los Angeles-area locations, once again putting the power of the Vote into the hands of their customer in the form of a cold one.
Each of the legendary restaurants' venues has assigned specific beer taps designated for each of the United States Presidential contenders. Guests are encouraged to participate in continuous voting by purchasing a pint of their favorite brew in the name of politics, thus casting a vote for one or the other.
President Barack Obama, an avid beer aficionado, has been assigned the ever-popular Blue Moon tap, while the Republican contender Governor Mitt Romney is represented by the Bud Light tap.
Though neither is an official endorsement by the respective beer companies or Barney's themselves, it is a fun way to promote the people's right to vote in an environment that is both fun and prone to sparking heated political debate around the bar.
"We want to encourage everyone to partake in the basic American right to our valued Democratic process, but do so in a fun and unique way," said David Houston, owner of Barney's Beanery. "The point is to have a little fun with the electoral process, taking a heavy conversation topic around the bar this week and making it a little more interactive. And, if we sell a few more beers in the process, all the better."
The results of "Rock The Beer Vote 2008" corresponded with the actual winners of the elections. It goes to show you that what starts at the tap, may well end up translating to more votes at the polls, thus proving once again that America is the greatest country in the World.
In addition to posting totals on their main twitter feed (@barneysbeanery), there is also a special feed dedicated to the Beer Vote (@BarneysBeerVote) that will be on video screens at all of their locations. On Monday and Tuesday Barney's customers can see the updates from all 5 "precincts" throughout the day.
About Barney's Beanery:
Barney's Beanery gets its name from the original depression era road house in West Hollywood when the restaurant used to serve its mainstay, beans, to customers on Route 66 (now Santa Monica Blvd.). A wildly popular venue in Los Angeles recently expanded its operations to include 4 additional locations in Santa Monica, Old Town Pasadena, Burbank and Westwood Village. For additional information on Barney's Beanery, please visit www.barneysbeanery.com
Contact
Viardo Artists, Ltd.
Philip Viardo
323-648-5222
www.barneysbeanery.com
Nina Ngo
Viardo Artists, Ltd.
323-648-5222
nina@viardoartists.com

Contact