CobraHead LLC and Green Bay Drop Forge Keep Garden Tool Manufacturing in Wisconsin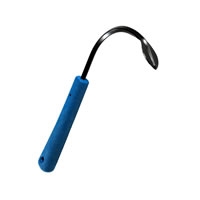 Cambridge, WI, November 15, 2012 --(
PR.com
)-- Bucking the trend of shifting manufacturing overseas, the partnership between CobraHead Tools and Green Bay Drop Forge shows how Wisconsin manufacturing can produce a quality product and retain local jobs.
CobraHead's founder, Noel Valdes, had developed the idea for a gardening hand tool. He had the patent pending design idea, and he had the market data to show the demand. What he was missing was a reliable, domestic hand tool forging source and the necessary metallurgical and production expertise. "I had made it my mission to have the tool made locally instead of overseas," says Valdes. "I set out to find a partner in the Midwest who I could work with and trust."
"Finding Green Bay Drop Forge, a well established Midwestern forger with a sincere willingness to be a partner to us, was the answer. Green Bay Drop Forge immediately showed exceptional and friendly encouragement in helping us get the tool designed and produced. They developed prototype-manufacturing prints and established tooling and manufacturing costs for both prototype and full production runs," says Valdes.
By partnering with Green Bay Drop Forge from the very beginning, CobraHead, LLC has developed a unique forged hand tool unlike any other. It has been enthusiastically endorsed by the most respected gardening journalists and horticulturists in the US, Canada, and the UK. "Over the years, Green Bay Drop Forge has consistently delivered exceptional quality, manufacturing expertise, and service. They are reliable and always accessible. We would simply not exist as a company without Green Bay Drop Forge. They are a true partner to us."
To read more please visit
www.cobrahead.com/blog/2012/11/07/cobrahead-llc-and-green-bay-drop-forge-keep-garden-tool-manufacturing-in-wisconsin/
and
www.greenbaydropforge.com/case-studies/cobrahead-llc
For more information please contact CobraHead
Contact
CobraHead LLC
Geoffrey Valdes
608-423-9119
www.cobrahead.com

Contact