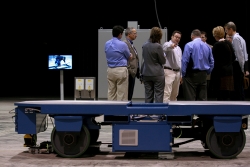 Plymouth, MI, November 28, 2012 --(
PR.com
)-- SuperiorControls, an advanced engineering company headquartered in Plymouth, Michigan, announces its first ever Inductive Power Transfer (IPT) test track. Located in Superior's Plymouth Manufacturing Center, the IPT test track allows Manufacturing Engineers and Managers the opportunity to see this asynchronous, flexible conveyance technology in action. Randy Brodzik, President and CEO, commented "With experience designing and building IPT lines for some of the largest vehicles and components in the world, we are leading the way in this technology. Teams from the U.S. military and some of the largest companies in the world are currently working with us to implement IPT in their locations."
IPT provides in-floor high frequency wireless power transmission and communication for independent Automatically Guided Vehicles (AGVs). Two shallow channels are cut to contain the power and communications cables, then filled with epoxy and ground flush with the finished floor. Pits and moving chains are not required, eliminating all trip hazards, and IPT installation time is significantly less than traditional conveyance systems require. The fully integrated system provides flexibility through programmable workstation locations.
Rod Emery, VP Engineering, says that flexibility is designed into each customer's IPT system: "SuperiorControls makes sure our client's IPT lines are designed for change from the beginning. The custom software for every assembly line will easily accommodate different paths, speeds and processes. Instead of digging new pits and adding new chains, a SuperiorControls IPT line can be rerouted as soon as minor floor changes are made to accommodate the tracks."
Glenn Petersen, Engineering Program Manager, comments that "The result is a safe, quiet conveyance system that's easily changed for new line requirements. We are seeing repeat buyers as customers roll out our fully integrated IPT systems to multiple plants."
SuperiorControls IPT systems can be integrated with their Manufacturing Execution Systems (MES), including Kitting, Sequencing, Error Proofing, Traceability and Factory Information Systems (FIS).
For more information or to schedule a tour of the IPT test track, please contact Rod Emery at 734.454.0500,
remery@superiorcontrols.net
.