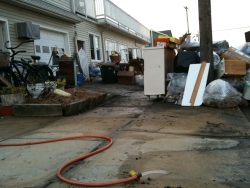 Manahawkin, NJ, November 28, 2012 --(
PR.com
)-- Nearly a month has passed since Superstorm Sandy decimated the New Jersey coastline. Thousands of residents remain displaced and in many places business as usual hasn't quite resumed.
"It's been a terrible event," Matt Abatelli of Beach Haven said. "When I first arrived back on the island my neighbor was sitting outside her home with all her belongings piled around her. She was smiling but you couldn't help crying. It was so sad."
Abatelli is the Director of the Children of the Earth Foundation in Manahawkin, NJ which specializes in wilderness and urban survival programs for youth, teens and community. Their programs provide intelligent solutions to complex problems such as Hurricane Sandy.
Founded by world renowned tracker and survival expert Tom Brown, Jr., the Children of the Earth Foundation has run programs in NJ for the past 15 years.
"We had to do something, so we put together a series of school and neighborhood programs that offer immediate relief while strengthening our community for the future. These programs are free thanks to the generous donations of our past students and wide community of supporters." The Children of the Earth Foundation is a not-for-profit organization with 501c3 status.
"It's a hybrid of knowledge," Abatelli says. "Wilderness meets urban, ancient meets modern. Its basic survival knowledge that all children, all families should know."
"For example, we take the basics of shelter construction and show them how they can use the life-saving techniques in both their homes when the power goes off or out in the wilderness. It's the same with water purification, the many forms of fire in our lives, even food collection! The resourcefulness that comes from these skills is amazing and it's this kind of knowledge that leads to resilience."
"There can be a hopeful outcome to this tragedy. People need to know others care about them and this is an example of that."
If you are interested in a school assembly or community workshop in your area, please contact their office at (609) 971-1799 or info@cotef.org
For more information on this and other programs offered in NJ, visit www.cotef.org.