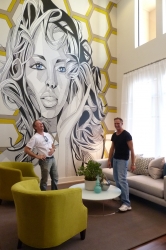 Orlando, FL, December 10, 2012 --(
PR.com
)-- Beasley & Henley Interior Design put the finishing touches the progressive downtown Orlando complex, Steel House. The award-winning interior design firm installed the furnishings this week, capping off an 18 month commitment that included interior design, interior detailing, specifications and furnishings for this new $40,000,000 multi-family project.
The designers from Beasley & Henley created the new luxury one- and two-bedroom apartments with the latest amenities, including finishes of quartz and granite, floating countertops, stainless steel energy-saving kitchen appliances and custom cabinetry. A large percentage of the apartments will be one-bedrooms, which are in high demand.
The designer created cutting edge designs in the amenity spaces of Steel House include the leasing areas, clubroom, and the 'Steel Lounge' located on the top floor of the 'House' with spectacular skyline views.
The style of the interiors is markedly upscale-urban and sophisticated with modern furnishings, bold colors and eclectic artwork throughout. The color palette includes a background of neutrals and whites with punches of soft yellows, greys, modern greens and fresh aquas. A focal point for this progressive project is large wall painting in the leasing area by the talented Andrew Spears of Metro Finishes.
Other amenities include a pool, fountains, fitness center, business center and gallery space.
The four-story project was developed by Pollack Shores Real Estate Group of Atlanta with architecture by Poole and Poole Architects.
Beasley & Henley Interior Design designs upscale multi-family projects for clients across the United States. They work with the developers toward the goal of high rental rates and world class designs. For more information on Beasley & Henley Interior Design please visit our website at www.BeasleyandHenley.com. Reach us by phone at 407-629-7756 or 239-774-1005, or by email at Stephanie@BeasleyandHenley.com