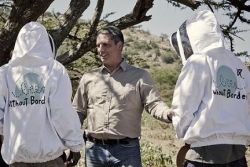 New York, NY, December 04, 2012 --(
PR.com
)-- Andrew's Local and NYC Honey and Bees Without Borders launches $20,000 Indiegogo Campaign to save honey bees in Kenya.
Andrew's Honey and Bees Without Borders (a 501(c)(3) launches Indiegogo Campaign. The campaign will seek to raise $20,000 in additional funds to help support its mission to build a better beekeeping infrastructure for three Kenya villages, including the semi-nomadic pastoralist Samburu people, at the base of Mount Kenya. The Indiegogo campaign was launched on Monday, November 25, 2012 at noon and will run for thirty days, ending on Christmas Day. So far it has raised over $4,000.
Beekeeping is an old tradition in Kenya, but the most common method of putting a large log up in a tree and harvesting it at the end of the season often kills the bees, so the colony cannot survive from year to year. Also, the hives cannot be monitored for disease throughout the season, or harvested more than once. Due to a lack of protective equipment, bee stings are much more frequent; hence, beekeepers are frequently discouraged.
The month-long Kenya project, December 26, 2012 - January 25, 2013, will utilize a small local staff and volunteers. One hundred percent of the Indiegogo campaign money will be used for infrastructural improvements such as building honey badger proof fences to protect existing hives; donating vital beekeeping equipment such as smokers, veils, and hive tools; local classes on basic beekeeping; assisting with the marketing of honey for sale; local employment; setting up new apiaries in other rural areas; providing ongoing stipends to beekeepers in Kenya to attend conferences that will help them become better, safer, more successful beekeepers.
www.indiegogo.com/beesoverhoneybadgers
About:
Father and son Norm and Andrew Cote are lifelong beekeepers with a passion for helping people all over the world. In between inspecting hives, harvesting and selling honey, and teaching beekeeping classes, Andrew founded Bees Without Borders, a platform to teach beekeeping skills to groups of people in economically depressed areas of the globe as a means of poverty alleviation.
From Brooklyn to Baghdad, this 501(c)(3) has taught beekeeping as a means of poverty alleviation. BWB has traveled to many places, including Moldova, Iraq, Fiji, Uganda, Haiti, Ecuador, Zimbabwe, India, and most recently, Kenya in January 2012. The current project will return to Kenya to revisit the beekeepers from the last trip and, with the help of local universities and beekeepers, reach out to even more throughout the country. Bees Without Borders has been featured on many news sources including The New York Times, GRIST, Time, the Village Voice, and the Food Network.