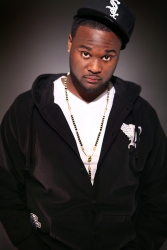 Chicago, IL, December 06, 2012 --(
PR.com
)-- Chicago Hip-Hop Artist Chi City has been added to a four-city Midwest tour with Recording Artist The Kid Daytona (Community JUICE / JMI+ / Oyster Concepts Recording), December 6-12, 2012, presented by Make a Mogul Entertainment. The tour includes additional performances by Battery/Jive Recording Artist Mickey Factz, John Boy, G-Ball, Al Dilla, DJ Ross Kid, Universal Recording Artist YP (Chicago date only). Details about The Kid Daytona Midwest Tour can be found at www.MakeAMogulPresents.com.
"Chi City was selected for the tour, because I found his music to be dope and also The Kid Daytona's management informed me that Chi City and The Kid Daytona had recently done a song together and asked me to reach out to Chi City about joining the tour," said J Roc of Make A Mogul Entertainment.
Chi City added, "I've never felt more alive about the music I create and the passion I put into every record. Being able to be on the road and share those feelings with my fans is beyond imaginable, so this tour for me represents the start of what it takes to become that great artist."
The Kid Daytona Midwest Tour stops include The Canopy Club in Urbana, IL on December 6; Video Saloon in Bloomington, Indiana on December 7, Subterranean in Chicago, IL on December 10, and Skully's in Columbus, Ohio on December 12.
Watch and comment on Chi City's Lose My Mind: http://www.youtube.com/watch?v=i3Ay9NEQjF8&feature=youtu.be
All Eyes on Me: http://www.youtube.com/watch?v=sU8mzRpgXmw&feature=youtu.be
About Chi City
Chi City is undeniably one of the most lyrically explosive rappers in the Midwest, but his talent doesn't stop there. At just 25, this young entrepreneur and musical prodigy has been in the game for over 10 years as an engineer and owner of one of Chicago's most-successful studios, O.M.O. (On My Own) Entertainment, which has produced street banger time and again for several of the City's top independent (and mainstream) artists. Chi City has written for artists on Kanye West's G.O.O.D Music label, B.O.B, Diggy Simmons and more. Chi City continues to develop his artistry as a versatile writer, lyricist and performer on showcases for Def Jam Records, BET, ThisIs50.com etc. Visit thisizchi.com for more information. Follow @IAmChiCity on Twitter.