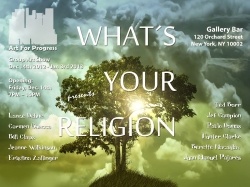 New York, NY, December 06, 2012 --(
PR.com
)-- Art for Progress presents "What's Your Religion"
Group Art Show. Opening: Friday, December 14th, 7PM – 10PM.
Gallery Bar, NYC
Religion plays a very important role in many people's lives, and religion as an institution holds a powerful place in society, but people are also influenced by other things that do not theoretically align with a form of religion.
"What's Your Religion" delves into the broad perspective of what motivates/inspires people to approach life in a certain way. The artist's perspective can be personal or just a general perspective on the topic. Is it religion or faith that leads the way? Is it money, power, fame or being of service to others? What's Your Religion?
Hosted by NYC based 501 (c) 3 non-profit Art for Progress, the show will feature artwork by Ted Barr, Jef Campion, Hunter Clarke, Bill Claps, Pablo Damas, Lance Dehne, Carmen Ghecca, Berette Macaulay, Juan Manuel Pajares, Jeanne Wilkinson and Kristina Zallinger.
The scope of the exhibit is wide ranging in terms of the media (paintings, photography, installation, digital) and the artist's perspective. For example, Ted Barr's work explores the human relationship with our universe while Jef Campion's work takes a more literal, critical view of religion. Jeanne Wilkinson's "Sky People" live in a digital, fantasy world outside of time while Juan Manuel Pajares' "Icons" series looks at the role of celebrities in society.
The exhibition runs through January 3rd 2013.
Gallery Bar
120 Orchard Street
New York, NY 10002
(212) 529-2266